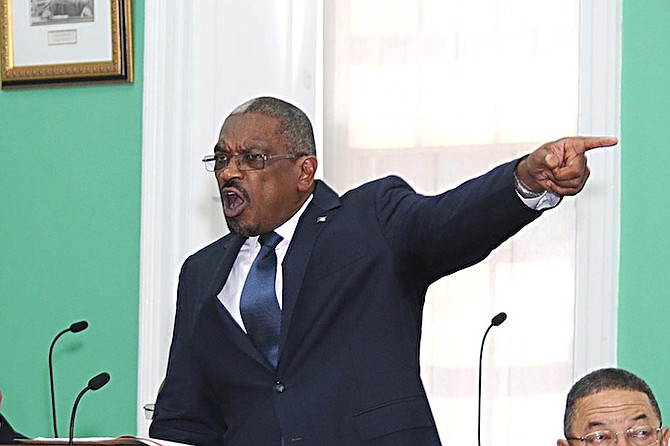 By KHRISNA VIRGIL
Tribune Staff Reporter
kvirgil@tribunemedia.net
FREE National Movement Leader Dr Hubert Minnis has branded National Security Minister Dr Bernard Nottage's national address on crime as "inconsiderate, lacking depth and eons too late."
Dr Minnis said he had little faith in the government's ability to execute the proposed plans in the address because, historically, the Progressive Liberal Party was great at announcements but lacked the ability to execute and deliver.
He further blasted the Bains and Grants Town MP and Prime Minister Perry Christie, who represents the Centreville constituency, saying they both should be ashamed of themselves for failing to revolutionise inner-city communities where the majority of violent crimes happen.
Last week, Dr Nottage said that around 60 per cent of violent crime occurs in inner-city communities but he did not name which areas are most challenging for officials.
The criticism followed Dr Nottage's hour-long crime address on ZNS on Thursday night, which revealed little new strategies to tackle the country's festering crime problem.
It was the first time Dr Nottage had spoken about crime since July 8, when he announced that the Christie administration had received a $20m loan from the Inter-American Development Bank (IDB) to aid in the fight against crime.
Dr Minnis said: "The minister of national security, in a surprising turn of events, finally found his voice and addressed the nation in a 'snap address' in the midst of the entire country preparing for a direct hit by Tropical Storm Erika. How untimely! How insensitive! How late! The minister has once again insulted the Bahamian people.
"He has not given the vexing and heart-wrenching crime problem the priority it needs, especially since the last time we heard from him was in early July, and even then it was another announcement."
Dr Minnis added: "Both he and Prime Minister Christie should be ashamed of themselves. Dr Nottage basically admitted that 60 per cent of murders come from their constituencies. These are communities they have failed to look after. They have done a very poor job in protecting their own constituencies and bring a true revolution. The FNM will see that this is done."
During his televised speech, Dr Nottage said the government intends to bring a Parental Responsibility Bill that would compel parents with minors to either engage in effective parenting or face criminal prosecution.
However, Dr Minnis said he strongly doubted this government would bring the legislation in a timely fashion, or at all.
"The minister further added insult to injury by stating that 'indeed many of them simply don't know how to be a parent,' as he implied that the reason for the high rate in crime is directly related to single parent homes.
"He sadly went further in saying 'certainly, good parenting seems to be a lost art.' I contend that certainly good governance under the PLP seems to be a paradox. I further submit that engaging the Office of the Attorney General to commence drafting a Parental Responsibility Bill will take months based on the PLP's record and does not address the immediate challenges facing the country."
Dr Minnis went on to echo one of his previously announced crime strategies, which involves removing guns from the streets of the country.
He said he spoke about a "Get the Guns Back" initiative and plans for a "community revolution" during a meeting in Englerston on August 15.
"It is rather interesting that 13 days after my comments, the minister admits during his address, that my party and I have again given them steps to address crime that they are going to utilise by commencing our suggested walkabouts, starting in September."
In his speech, Dr Nottage stressed that while overall crime has continued its downward trend, law enforcement continues to battle a rise in homicides and a spate of gun related offences.
He went on to lament the near 25 per cent increase in homicides so far in 2015 compared to the same period last year.
He added that a closer study of murders over the last few years has yielded clear patterns. Of those patterns, he said six out of every 10 murders occur in inner-city communities.
Records also indicate that 56 per cent of murder victims had prior criminal records; seven per cent of whom were previously charged with murder. As for the suspects, nearly 80 per cent of them had prior criminal records, 15 per cent of whom were previously charged with murder.
Dr Nottage's address came on the same day that the British and Canadian governments issued safety warnings to their citizens travelling to the Bahamas because crime was on the rise.
Canadians, a growing sector of the Bahamas tourist market, were warned to exercise a high degree of caution in New Providence where "there has been an increase in armed robberies targeting tourists in Nassau."
They were cautioned that incidents take place in both populated and isolated areas and in daylight. "Avoid deserted beaches and do not walk alone, particularly after dark," the Canadian government website advised. "Sexual assaults are on the rise in Nassau."
The government specifically picked out water sports rental operators, which it described as a "poorly regulated industry," saying tourists had reportedly suffered sexual assaults by operators and serious injuries.
The British government told its citizens that robberies and break-ins reported to the High Commission were on the rise and warned of incidences of violent crime in residential and tourist areas in New Providence and Grand Bahama. It also referred to the water sports industry. "Every year people are killed or seriously injured using Jet Skis and other watercraft carelessly, or by the reckless behaviour of others," it said.