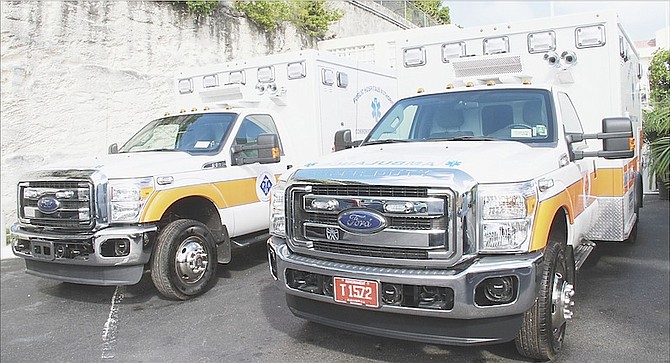 By NICO SCAVELLA
Tribune Staff Reporter
nscavella@tribunemedia.net
THE National Insurance Board yesterday turned over two new "state of the art" ambulances to the Public Hospitals Authority to improve its capacity to respond to medical emergencies.
At a handover ceremony at PHA headquarters yesterday morning, NIB Director Rowena Bethel gave Health Minister Dr Perry Gomez and PHA officials two sets of keys for two 2014 Ford f-350 ambulances valued at $300,000.
According to Dr Gomez, the two ambulances bought by NIB will be added to the fleet of an additional 25 ambulances to be purchased by the PHA. Those vehicles, he said, will allow for the retirement of "aging vehicles" from the PHA's existing fleet, and also allow for the implementation of the "decentralized ambulance service" to the public clinics in Flamingo Gardens, South Beach, Elizabeth Estates and Eight Mile Rock in Grand Bahama.
Dr Gomez said once stationed in those areas and fully equipped with the necessary trained emergency technicians, emergency response times are expected to drop from an average of 28 minutes to eight minutes.
"It is a priority of my government to ensure that the archipelagic geography of the Bahamas does not pose a barrier to the provision and equity of care to residents of our country," Dr Gomez said. "My government pledged that we would improve the delivery and quality of care throughout the Commonwealth of the Bahamas; (this handover) then is another clear indication of my government's sacred promise."
Mrs Bethel, meanwhile, said NIB was proud to assist in something that would further bolster the country's healthcare system ahead of the implementation of the government's proposed National Health Insurance (NHI) scheme.

"As the government moves to implement universal healthcare coverage, adequate tools such as these ambulances, are an imperative to support this worthwhile programme," she said. "I am sure that the Bahamian public now has at their disposal two state of the art vehicles that NIB is privileged to assist in contributing towards, and we also look forward to the partnership (with the Ministry of Health)."
According to Dr Gomez, the new ambulances are equipped with automatic transmissions and are customised with features that will improve "performance, reliability, patient and staff safety as well as improved visibility and audibility."
The vehicles are also equipped with global positioning systems (GPS), high sulphur grade diesel engines, LED lighting, hydraulic lifts to allow the cabin to be raised and lowered, and a modular cabin "for ease through the narrow streets of New Providence".
According to Dr Gomez, the PHA will seek to deploy ambulances to north Andros, Bimini and San Salvador in the coming year.