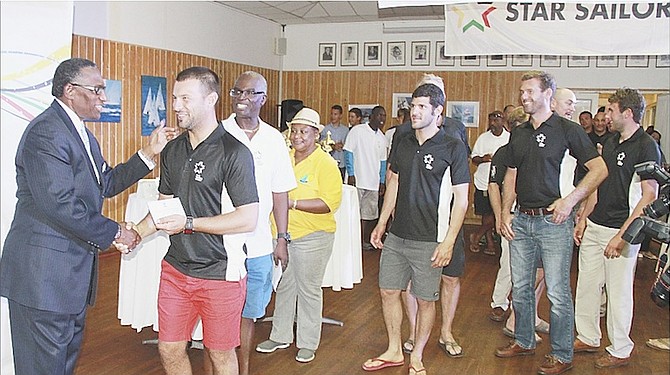 By BRENT STUBBS
Seenior Sports Reporter
bstubbs@tribunemedia.net
THE All Mayaguana Regatta Committee got a major boost to its fund-raising efforts with the Sail Sailors League joining in a big promotion of the sloop sailing boats in Montagu Bay on Monday.
Here for the SS Finals this week, the international sailors mixed and mingled with the local C Class sailors in the three-race regatta. Winning the title was the Crazy Partner, followed by Fugitive, the Bahama Breeze Thunderbird, the Sweet Island Gal, Flash and Lady Margaret. Each boat had at least three international sailors on board.
The Fugitive took the first race followed by Crazy Partner and Sweet Island Gal. But Crazy Partner came back and won the final two races with the Sweet Island Gal and Fugitive taking second respectively. Fugitive got third in the second race and the Thunderbird got the third spot in the final race.
"At first, I thought the series would have turned out bad for us, but it was a very good one," said Warren Adderley, who spoke on behalf of Crazy Partner owner Gerrard Moxey. "When we started at first, we had one or two problems with the sail going up on the track. But it all ironed out and we were the victors. It was a lot of fun, but we did it all in the name of sports."
Adderley, who sailed along with David Rolle, a sailor from Scotland and two Americans, said they matched their skills very well and was able to turn things around after their dismal start.
Although the Flash came in fifth with two Frenchmen and Polish sailor, Dwayne Higgins said they enjoyed the series.
"The All Mayaguana Regatta Committee is appreciative of the boats that came out," Higgins said. "It was an extension of what we started on Saturday and Sunday and the fact that these international sailors gave us a priceless experience. I know the ones who sailed with us really enjoyed themselves. We really hope that more of the local sailors could have gained from the experience."
Race organiser Rev Dr Philip McPhee said the whole experience was probably the greatest thing that has ever happened for sloop sailing.
"The opportunity to showcase our boats under the management of world class and Olympic sailors was tremendous. They adapted so well to our style of sailing," he said. "It was astonishing to see how gifted these guys are and how well our boats can sail under professionals, who handled our boats so very well."
With the races filmed to be broadcast during the finals of the SSL series, McPhee said the exposure for the Bahamas is enormous. "As they sail their Star Class this week, they will also showcase our boats during their rest period to the world," he said. "We could not pay for what we got today. The Bahamas could not pay for the exposure we got internationally."
McPhee publicly thanked the SSL and its founder and organiser Michel Niklaus and Serena Williams of Serena Williams Media & Public Relations for giving the local sailors the opportunity to use their fundraiser as a means to display the sloop sailing competition to the world.
"I really want to thank the boat owners. We had to work up until midnight to actually make this happen," he said. "It was not an easy task to do, but I want to thank the boats that participated and Dwayne Higgins for his support also. He worked hand-in-hand with me to make this possible. And I want to thank my Minister, V Alfred Gray and the Permanent Secretary at the Ministry of Agriculture & Marine Resources, Rena Glinton, for the role they also played along with the entire staff."
Today, the SSL Finals are set to begin at 11am with the first qualifying round. The rounds will continue until Friday when the top 11 teams will advance to the final to be staged on Saturday.
A total of 20 teams, comprising of 40 sailors, will be competing for $200,000 in prize money.
Among the field of competitors are nine Olympic medallists - GER Jochen Schümann (3x Gold & 1x Silver), POL Mateusz Kusznierewicz (1x Gold & 1x Bronze); BRA Bruno Prada (1x Silver & 1x Bronze); CYP Pavlos Kontides (1x Silver); USA Brian Ledbetter(1x Silver); GER Ingo Borkowski (1x Silver); BRA Lars Grael (2x Bronze); FRA Xavier Rohart (1x Bronze) and FRA Pascal Rambeau (1x Bronze).
There are also world champions - Louis Vuitton Cup and VOR Winners, inclusive of USA Paul Cayard (World Champion in Star & Winner of LVC & 1x VOR); GBR Ian Williams (5x World Champion in Match Racing); GER Robert Stanjek (World Champion in Star); USA George Szabo (World Champion in Star); NZL Hamish Pepper (World Champion in Star); BRA Jorge Zarif (World Champion in Finn) and GBR Steve Mitchell (World Champions in Star and Etchells).
Additionally, there are some European or North American champions in GER Johannes Polgar (European Champion in Tornado and in Star); CRO Ivan Gaspic (European Champion in Finn); ITA Diego Negri (European Champion in Star) and USA Augie Diaz (North American Champion).
And there is also a rookie in GBR Lorenzo Brando Chiavarini (Laser - Winner of Qingdao World Cup).