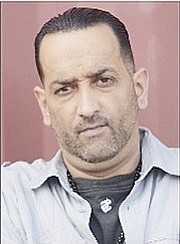 By NAUGHTY
naughty@tribunemedia.net
I WENT 10-6 last week to move to 100-76 for the season, not as good as last season but considering the topsy turvy organised confusion that is the NFL each Sunday I will take it.
I will also enjoy watching "FishBoy" eat suicide wings from "Tailgaters" and the "Bradyite" down 48 Dunkin Donuts "Munchkins" during the live broadcast of "The Press Box" this Sunday from 10am to 1pm on KISS96FM.
All I had to do was sing that insipid Miami Dolphins fight song for being the week's loser - seems I got the sweet end of the deal.
This week, the playoffs start in Fantasy Football in some leagues, or it's the final day of the regular season with playoff ramifications in the balance. I had 10 teams this year; I've qualified for the playoffs with six already, two are out of it and two play with their playoff fate at stake. Win and I'm in.
Good luck to all my other Fantasy Football players in the same predicament as me. Unless you're playing against me .. in which case I hope you lose!
So this week my picks are short and sweet ... no really, I mean it, short and sweet. I've got last minute Fantasy Football business to handle.
PACKERS v LIONS
Lions at home in this division brawl. The Lions have been the better team as of late, and they are at home.
LIONS 24 PACKERS 23
TEXANS v BILLS
Bills at home. If this game were played in Houston I take the Texans.
Weather plays a part in this one, Tyrod Taylor also to an extent.
BILLS 27 TEXANS 24
49ers v BEARS
Jon Fox has the Bears believing in themselves - and most importantly he's got QB Jay Cutler believing also.
BEARS 27 49ers 20
BENGALS vs BROWNS :
Bengals!!! That is all!
BENGALS 31 BROWNS 20
JAGUARS v TITANS
Jags bounce back on the road against division rivals.
JAGS 27
TITANS 24 (OT)
CARDINALS v RAMS
Injuries didn't affect the Cards like it did some other teams; it's literally next man up for Bruce Arian's team. And back to winning of course.
CARDS 26
RAMS 20
RAVENS v DOLPHINS
Dolphins win at home!!! It's almost Christmas, why not?
DOLPHINS 27
RAVENS 24
SEAHAWKS v
VIKINGS
Vikings in the upset at home.
Head Coach Mike Zimmer has the Vikings sipping the "Kool Aid".
VIKINGS 20
SEAHAWKS 17
JETS v GIANTS
Despite having to travel a great distance for this game, I like the Jets in this one. Anything to keep my Cowboys alive ... Yes I'm still clinging to hope, I know I know!
JETS 27 GIANTS 26
FALCONS v BUCS
Surprise, surprise the Falcons get their last win of the season on the road.
FALCONS 31 BUCS 27
CHIEFS v RAIDERS
This game has "shootout" written all over it, and the Chiefs stay hot in the process.
CHIEFS 31
RAIDERS 30
BRONCOS v
CHARGERS
Brock is for real! Well, at least for another week.
BRONCOS 34
CHARGERS 20

EAGLES v PATRIOTS
Patriots take their frustrations out on the Eagles - it couldn't happen to a better opponent.
PATS 41 EAGLES 27
PANTHERS v SAINTS
"Cam, oh Cam." Panthers stay "pawfect" (I know it's corny)
PANTHERS 30
SAINTS 16
COLTS v STEELERS:
Coin flip. Heads it is ... Steelers at home.
STEELERS 26 COLTS 20
COWBOYS v
REDSKINS
"The Twilight Zone" of the NFL, the NFC East, gets more bizarre.
Matt Cassel wins his first game as Cowboys QB.
My 'Boys are still alive, barely, so I'm in "Alamo" mode, wagons circled ready to go down fighting.
COWBOYS 24
REDSKINS 23
• Naughty presents 'Mischief and Mayhem in da AM' from 6am to 10am, Monday to Friday and 'The Press Box' sports talk show on Sunday from 10am to 1pm, on KISS FM 96.1. Comments and questions to naughty@tribunemedia.net