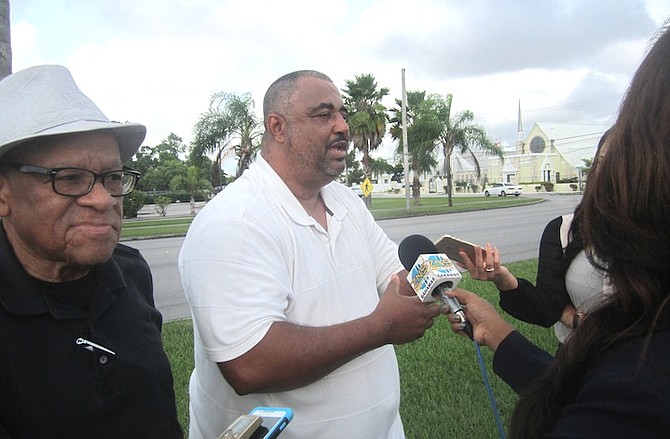 By DENISE MAYCOCK
Tribune Freeport Reporter
dmaycock@tribunemedia.net
After a long hiatus, local activists Troy Garvey and Etienne Farquharson met executives of the Grand Bahama Power Company (GBPC) last month and said that they were pleased with the steps it is taking to reduce power cost for local consumers.
"We met with executives last Friday and were given an intense review as to why the increase (in the base rate) is not really an increase per se to consumers," Mr Garvey said on Wednesday.
"We could not understand it until they brought it to our attention; we understand (now) and we are pleased to know that from our initial efforts and (protests) that the executives have done some things based on our recommendations and applied it to their managerial structure to implement a programme that will result in savings for consumers."
GBPC made application in August to the Grand Bahama Port Authority, the regulators of utilities in Freeport, for an increase in the base rate.
With the base rate increase, Mr Garvey said that homeowners of low-income housing can expect a seven per cent drop in their power bill over a period of time and average income homeowners a three per cent drop.
In 2008, Mr Garvey led a series of protests against the Power Company over the high cost of power, and later formed the now defunct civic organisation, Operation Justice. However, Mr Garvey decided take a break from his role as an activist due to personal reasons and the organisation faded away.
Pastor Eddie Victor, Convener of The Coalition for Concerned Citizens (CCC), started a 'Lower The Cost of Power' campaign against the Power Company, launching a petition, power boycott, protests, rallies and town meetings.

The CCC is strongly opposed to the base rate increase by the Power Company, and is moving forward with plans to form an association in its fight to bring down the cost power. Although Mr Garvey commended CCC for its efforts, he believes that the Power Company is now moving in the right direction.
In its proposal, he noted that the Power Company has proposed to buy back power from consumers who install solar panels on their homes. "You will be able to sell power back to the Power Company and this what they have proposed to the regulators; they have not come up with a price as yet," he claimed. Mr Garvey said what the company is proposing "will bring resolve for what we have been fighting for all this time".
"We can't really worry about the base rate (increase) - it is an all-in rate. And when hedging programme come on the stream, (consumers) will see some normalcy," he explained.
In the meantime, Mr Garvey is appealing to the public to do their part by making their homes energy efficient by replacing the 80 and 60 watt bulbs with energy saving bulbs, and to unplug all power cords.

Despite their absence, he said it was their initial efforts that helped to bring about the positive changes. "We were leading the charge from day one and we… are still working on it for consumers. No disrespect to CCC, but when we were fighting this we took it to Halifax, Nova Scotia, where EMERA is headquartered, and we filed an official complaint on November 16, 2011.
"Many may not be aware of this, but an official complaint was also filed with the Office of the Prime Minister and the Grand Bahama Port Authority. And I want to thank to those who fought with us for all those years to see a change on the (power) bill; it is a positive result we were looking for and our fight was not in vain," he said.
Due to financial strain, Mr Garvey said he could no longer continue to the fight. "I think Mr Victor should have contacted us and joined forces. Hats off to him and his Coalition for what they are doing … but today, I can say we are pleased with the efforts we have put in too."
Mr Garvey said that he Mr Farquharson will continue to serve watchdogs to ensure that the Power Company fulfils its promise to consumers.