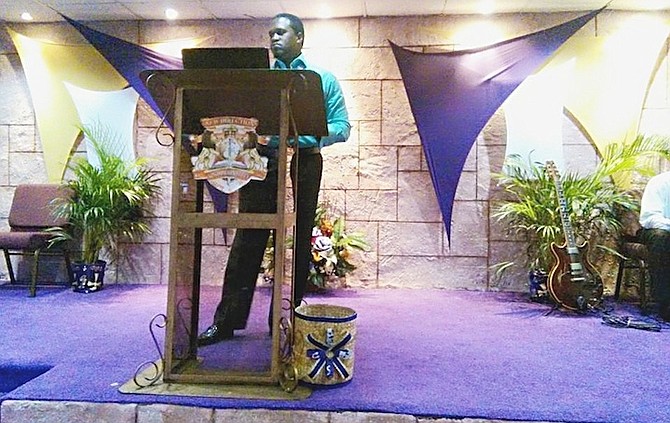 By ALESHA CADET
Tribune Features Reporter
acadet@tribunemedia.net
BY identifying the problem, dispelling the myths of grief and providing a solution, a new counselling and recovery centre in New Providence hopes to make a difference in the community.
Led by senior grief recovery specialist Delano Rolle, the D & R Professional Counselling Centre in the Pure Gold Plaza, Zion Boulevard, provides services in the areas of death counselling, pet loss, divorce, child and adolescent, pre-retirement, grief workshops, communication seminars, group sessions, motivational speaking, one-on-one and emergency sessions.
While grief is a normal and natural feeling, Mr Rolle said most of the information passed on within society about dealing with grief is not normal, natural or helpful. He said the misinformation regarding grief is best described in six myths - time heals all wounds, grieve alone, be strong, don't feel bad, replace the loss and keep busy.
"I am also a pastor and I realised that just knowing the word of God and the Bible wasn't enough to help people through various crises. People wanted more realistic approaches and approaches that would have been tried, tested and proven on a wider scale. Stemming off of that I experienced the death of my grandmother about three years ago and that was something that I took very hard. I reached out to persons who were not very well equipped with the knowledge and information to help me through what I was going through," Mr Rolle told Tribune Health.
It was at that time he decided to do some research and go to school in Pittsburgh, Pennsylvania, where he later became certified. After that Mr Rolle came home to the Bahamas, where he opened his business two months ago.
"You have a lot of people out there who are having hard times recovering from things that happened in their past, and as a result they are hindered and not able to move in their present. I want people to know it is possible to move on and be successful. We launched just two months ago and since then we have been very busy in terms of helping persons," said Mr Rolle.
Initially called "The Grief Recovery Centre", Mr Rolle said the name was soon changed to the D & R Professional Counselling Center due to the misconceptions regarding the word 'grief' itself.
"Grief is a word that scares a lot of people because when they think about grief they automatically thing about death. Grief is actually defined as a normal and emotional response to any kind of loss. So anything that you go through that makes you feel withdrawn, isolated and dampened, these are issues that generates what we call grief. Again, grief is any situation that an individual experiences that creates a feeling of depression and those other symptoms that can actually deteriorate the quality of one's life if they don't get the help that they need to recover from it," said Mr Rolle.
He said it is important to get the word out and let people know what the centre is all about and what they offer at their warm, inviting and - most of all - private atmosphere.
The goal, he said, is to service individuals so that they won't have to see a psychiatrist in the long term because when it gets to that point of seeing a psychiatrist, it indicates that a person's problem has turned into a mental disorder. The D & R Professional Counselling Centre is trying and working hard to prevent this.
Since its opening Mr Rolle said the feedback from Bahamians has been very positive, and as of next year they are launching an after-school youth programme called "Release" on weekdays from 4pm to 6pm. The programme will help the students in being comfortable to release issues that are on their minds that often contribute to poor performance in school as well as bad behaviour towards parents and guardians.
"We are also going to be offering cancer coaching in 2016. This will be for persons diagnosed with cancer. We will coach them through this process, encouraging them that they can beat it. I want to encourage people to know that they can be the managers of their own actions and their own minds," said Mr Rolle.