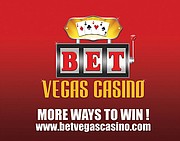 By SANCHESKA BROWN
Tribune Staff Reporter
sbrown@tribunemedia.net
WEB shop chain Bet Vegas closed 10 of its 11 gaming houses yesterday after being ordered to "shut down all operations" by December 7 by the Gaming Board.
Anthony Brown, Bet Vegas' president, told The Tribune that the company's Mackey Street location remained open "to pay out outstanding winning tickets".
He said the company's 86 employees were paid for the week and "put on notice" in case the chain reopens.
Bet Vegas was one of nine gaming houses that applied for a gaming house operator's license, however its application was rejected and the business was ordered to cease operations in October.
At that time, Tourism Minister Obie Wilchcombe said the company did not meet the "critical standards and benchmarks" that related to "each applicant's qualification and eligibility to hold a gaming house operator license," as well as "attributes central to the current and prospective financial viability of the applicant".
However, one week later, the web shop filed court documents against the attorney general, the commissioner of police and the minister of tourism, preventing police from closing them down.
Last Thursday, a statement from the Gaming Board said that on December 1, the Supreme Court ordered the court order filed by Bet Vegas to be "set aside with immediate effect".
When contacted for comment yesterday, Mr Brown said: "We closed today, we only had one location open to pay out persons that won over the weekend because we still have an obligation to pay outstanding tickets. We had that location open to receive payments".
"We might be open tomorrow, it depends on how much we pay out today. So 10 of the 11 shops are closed and the 86 employees were sent home. The 60 in Nassau were paid their salary for the week because the situation is not their fault and it is Christmas time. We promised to keep them posted for new developments. We are looking at what options are available at this moment legally, but right now we are dealing with employees and tickets. We didn't go out of business because of money; it is a matter of not having the license. Hopefully we will be able to resume the business".
After the order to close was handed down last week, Mr Brown said it was a "slap in the face" for his business, which he said was the only web shop chain established after the sector was made legal.
"This is ridiculous. We're the only company that really met all of the requirements," Mr Brown told Tribune Business last week.
"We're the only company that came in after the industry was legalised. This makes no sense."
The eight companies that received a conditional web shop license are FML; A Sure Win; Chances Games; Paradise Games; Island Luck; Percy's at The Island Game; Asue Draw + Spin; and Bahama Dreams.