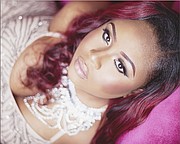 By ALESHA CADET
Tribune Features Reporter
acadet@tribunemedia.net
AS A child, Bennae Beneby admired her mother's work ethic as an entrepreneur in the health and beauty industry.
The Turks Island and Grand Bahama native spent days in her mother's beauty salon observing improved confidence and client satisfaction when a woman would leave a service booth.
This knowledge and experience has stuck with Bennae, 21, to the point where she has recently opened her very own salon now known as the Lavish Beauty Bar. As there were many trials and sometimes discouragements that came her way in trying to get to this point, she is certain that the tests and preparation was well worth it. If it hadn't been for steady hard work and dedication, her dreams would not have overcome doubt and become her reality.
"I knew beauty and sales were definitely going to be in my future endeavours," she told Tribune Woman. "At first I was discouraged after graduating high school. I felt like I wasn't doing anything with my life, couldn't find a job, wasn't able to go off to school. It was so many things that left me wanting to give up until the Lord said to me 'Go off faith and just start your dream and trust in me, I will make sure that it's always executed in its full potential'."
God's promise to her was fulfilled and she said the entire experience thus far has been a learning one. Now her Lavish Beauty Bar has evolved from a home-based business to a storefront at the Circle Mall, Freeport.
Offering a variety of retail products and services, Lavish Beauty Bar includes undergarment waist clinchers, butt lifters, home teeth whitening kits, make-up and hair products, hair extensions as well as the Lavish private line of beauty products.
"We have our professional in-house stylist, Olympia Lightbourne, who will be able to tackle any hair task, from natural blow outs to sew ins and so many more. We have our professional lash and eyebrow specialist, body wrapping, radiofrequency and cavitation and so much more unordinary services and products to come," said Bennae.
Even with all her ideas coming to fruition, Bennae said this is only the beginning; there is more to come. "I don't ever want to become complacent with Lavish. Therefore we will always continue to expand bigger and better," she said.
For her, the health and beauty industry is not a job, it is a passion, something she has grown to love more and more every day. The young business woman said when her clients are happy, so is she. She said it is all about them and how they feel about her products and services, and without her clients Lavish is nothing.
"The feedback is always amazing. To see my clients ecstatic to try our products/services and actually see life changing results is always astonishing. I want Lavish to grow both nationally and internationally as one of the best beauty bars in the world. Our biggest goal is just to grow. There are so many things we are currently working on for 2016. I won't go in depth just yet but believe me it will be great," she said.