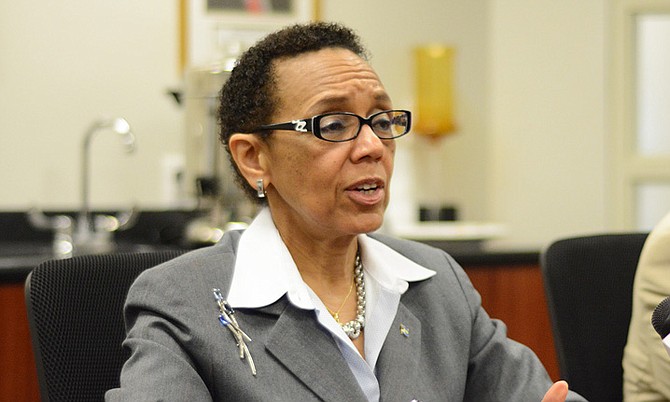 By RASHAD ROLLE
Tribune Staff Reporter
rrolle@tribunemedia.net
ATTORNEY General Allyson Maynard-Gibson yesterday pushed back against Police Commissioner Ellison Greenslade's recent criticism of the performance of the judiciary when it comes to dealing with those responsible for violent crime.
Mr Greenslade has frequently blamed the "revolving door of bail" for prolific offenders for the country's high crime and murder rate.
While in the past Mrs Maynard-Gibson has, to a limited extent, expressed concern about the degree to which some people brought before the courts are given bail, yesterday she suggested that the people granted bail this year have largely been deserving of it.
"I think it's extremely important to be careful about protecting the independence of the judiciary," she said. "The facts show that there is not a revolving door on bail for persons who have been charged of murder. This year we can show that for those who have been granted bail, the majority of them, I think it's nine, were granted bail this year. Two were granted and we appealed and those appeals were successful. And the other seven were all in respect to people who have been held beyond three years. In a country like ours, we believe that people should be charged within a reasonable time but we are unable for various reasons, and the commissioner knows many of them, not able to (get them) tried within that period so, of course, our system protects those who are presumed innocent until proven guilty. They have a right to bail."
When asked if she thought the Royal Bahamas Police Force (RBPF) needed stronger investigative practices, Mrs Maynard-Gibson reiterated her support for the police.
"I believe the police are doing their best in collaboration with agents apart of the Swift Justice system and I'm very proud of the efforts that everybody has been making," she said. "It's a team effort and that is why we are seeing such good results."
Speaking to reporters in November, the commissioner said: "There are some things that need to be fixed, other than arresting people, other than taking bad people off the streets on a given day. I cannot make a bad person who has committed murder, is intent on doing it again; I cannot make him or her change. What I can do is what I have done again this morning, not for the first time, arrest them and take them before the halls of justice and I'm asking that they are not allowed to return to the streets to continue to kill people and to continue to possess guns and travel with drugs."