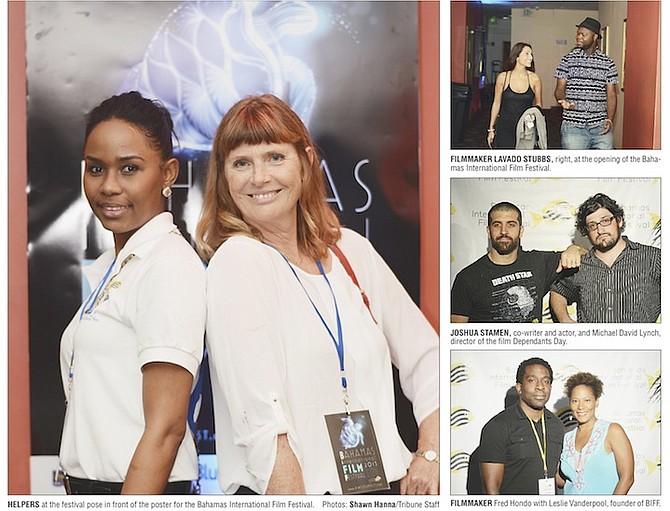 By RICARDO WELLS
Tribune Staff Reporter
rwells@tribunemedia.net
THE New Providence stretch of the 12th annual Bahamas International Film Festival got underway yesterday.
The festival will showcase more than 130 films from 40 different countries.
Executive Director and Festival Founder Leslie Vanderpool has in recent days lauded the calibre of directors, producers, filmmakers and films at this year's festival.
She noted: "This year's range of directors coming to the festival is extraordinary. Film lovers attending BIFF will have the chance to mix with these great creatives, discuss their films and ask them questions, and mingle with them at BIFF events."
With as many as 28 films set to make their Caribbean premiere, this year's festival is set to easily surpass organisers' expectations.
BIFF officials said this year's event would provide a unique perspective of the "ever changing film industry" from start to finish.
Beginning last Tuesday in Harbour Island was the festival's screenwriters' residency programme, which connected four emerging screenwriters over a four-day period with some of Hollywood's top talent, guiding the screenwriters through screenplay development, mentorship and networking skills.
Besides the screenwriters' residency programme, participants were treated to a development and production panel discussion, pitch and writing career session, master class in music, music and film panel, youth film workshop, women in film panel, film and finance panel discussion, art of collaboration panel discussion; and an editing panel discussion.
In November, BIFF announced that films "Carol" and "Janis: Little Girl Blue" would bookend this year's festival.
Director Todd Haynes' "Carol", which opened the festival last night, tells the story of Therese, a department-store clerk who dreams of a better life and falls for an older, married woman named Carol.
The film, set in 1950's New York, stars Cate Blanchett and Rooney Mara, with a screenplay by Phyllis Nagy.
The festival's closing film, Amy Berg's critically acclaimed Janis Joplin documentary, "Janis: Little Girl Blue", is an inspiring celebration of the singer's life and music.
BIFF launched in 2004 with the goal of creating a cine-literate arts community, bridging cultures, gaining knowledge, and attracting a targeted tourism sector through the film industry.
Throughout its 12-year existence, BIFF has showcased more than 800 films from countries around the world exposing the Bahamas to an international audience of filmmakers.