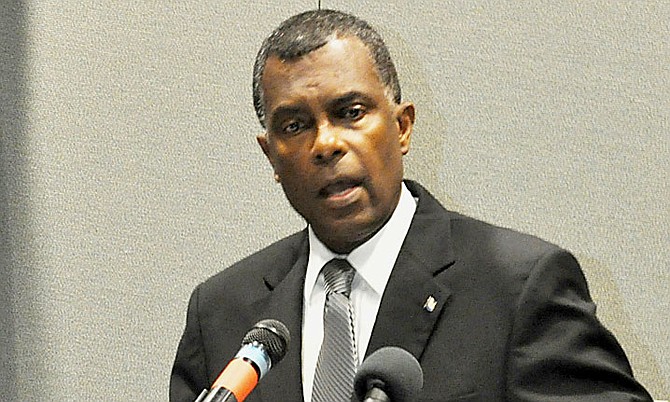 By NICO SCAVELLA
Tribune Staff Reporter
nscavella@tribunemedia.net
A Haitian man recently acquitted of an illegal entry charge has been deported to Haiti after a magistrate ordered to have him detained for "possible deportation" following his discharge, Foreign Affairs and Immigration Minister Fred Mitchell revealed yesterday.
Mr Mitchell said Magistrate Andrew Forbes, after acquitting Jean-Mary Justilien and ordering him to be discharged from
custody on December 1, subsequently ordered that the 27-year-old be surrendered to the Department of Immigration for "further assessment, and possible deportation."
The Tribune understands he was deported on Monday.
As a result of that order, Mr Mitchell said Mr Justilien, who "has no claim to Bahamian citizenship" and "no legal status in the Bahamas has been returned to his home country."
Mr Mitchell declined to comment further, stating that "yet another action has been launched in the courts" over the matter.

Attempts by The Tribune to contact Mr Justilien's lawyers, Grand Bahama Human Rights Association President Fred Smith, QC, and Adrian Gibson, were unsuccessful up to press time.
Magistrate Forbes ruled last Tuesday that there was no evidence to show that Mr Justilien had illegally entered the Bahamas in June as previously alleged. However, despite acquitting him and ordering that he be discharged from custody, the magistrate said that he needed to remain in custody until certain requisite "administrative procedures" had been carried out.
However, Mr Justilien's lawyers claimed at the time that those "administrative procedures" involved the signing of "papers" by Magistrate Forbes' staff, as well as Mr Justilien being "processed and released through the police at the Magistrate's Court".
On Sunday, Mr Smith told The Tribune that Mr Justilien was being detained at the Carmichael Road Detention Centre awaiting deportation.
In the House of Assembly yesterday, however, Mr Mitchell revealed that Magistrate Forbes ordered that Mr Justilien be turned over to immigration officials for "further assessment and possible deportation," words Mr Mitchell said were from Magistrate Forbes' order "exactly as given."
"The subject was not born in the Bahamas, has no claim to Bahamian citizenship, had no legal status in the Bahamas and so he has been returned to his home country," Mr Mitchell said. "There is nothing more to say on the matter because I am advised that yet another action has been launched in the courts over this."
Mr Mitchell went on to say that that action is a continuation of the GBHRA's "exaggerated and often false commentary" on immigration matters.
"Each day there is some press release spreading alarm and crying wolf, emanating from the same one spokesperson for the (GBHRA)," Mr Mitchell said. "Each feed his practice with a case in law and the hope that costs will be awarded in his favour. That is the clear pattern.
He added: "I say again this misinformation is giving aid and comfort to a sophisticated criminal enterprise to breach the borders of this country and no government or immigration minister can allow it to go unchallenged.
"I shall continue to fight for the Bahamas and resist this attempt to breach our borders, designed to sap the will of the immigration officers and intimidate us all to have our country awash with illegal migrants."
Mr Justilien was shot during an immigration round up in Palmetto Point, Eleuthera, on June 9 and airlifted to the Princess Margaret Hospital for treatment.
He was later taken into police custody on suspicion of assaulting a police officer and an immigration officer in the execution of their duties, according to police in an earlier statement.
Police later concluded that the alleged assault resulted in the accidental discharge of the police officer's revolver "causing injuries to the face and shoulder of the suspect."