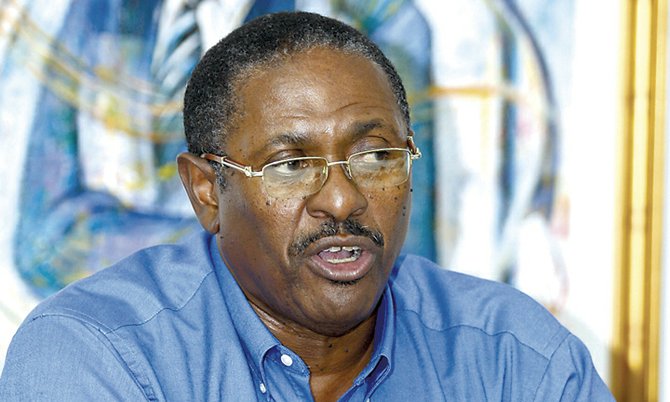 By RASHAD ROLLE
Tribune Staff Reporter
rrolle@tribunemedia.net
PROGRESSIVE Liberal Party Chairman Bradley Roberts yesterday downplayed the controversy over party member Wayne Munroe's call to flog illegal immigrants.
Mr Roberts said to his knowledge, such punishment is not being considered by the Christie administration.
"Flogging (immigrants) is against the law," he said. "International norms and so forth, flogging and whipping are against them. Some people have old-fashioned views. Some still want to whip their children, for instance, but to my knowledge this is not being considered by the government."
Mr Roberts declined to say if Mr Munroe – who joined the PLP in September and could vie for a House of Assembly seat on the party's ticket in the next election – should withdraw his comments.
"I think Wayne Munroe is bright enough to comment on this himself," Mr Roberts told The Tribune.
When contacted on the controversy yesterday, Minister of Foreign Affairs and Immigration Fred Mitchell declined to comment.
This comes several days after the Haitian ambassador to the Bahamas, Jean Victor Geneus, called for Mr Munroe's comments to be condemned.
Last week, Mr Geneus sent a letter to Bahamas Bar Association President Elsworth Johnson, saying Mr Munroe's statements would incite hate and cause violence to Haitians.
There have been other calls for the Christie administration to condemn Mr Munroe's comments, but so far only Mr Roberts has been willing to speak publicly on the matter.
Last week Sunday, the prominent attorney told The Tribune that officials in this country should begin "caning" minors and "flogging" those over 18 who are caught entering the country illegally.
He was contacted after he wrote on Facebook that the "price is too low" for immigration offences in the Bahamas, suggesting that if illegal immigrants believed "we tortured and killed them, they might not come."
In response last week, Mr Geneus said: "This despicable statement is a clear incitement to hatred and likely to cause violence against our nationals. It must be condemned. Mr Munroe's words do not do honour to the institution to which he belongs and whose mission is to defend the fundamental values such as human rights and dignity."
"I am convinced that the (Bahamas) Bar does not share the extremist view of Mr Munroe, capable of poisoning the hearts and minds. This position cannot contribute to the findings of solutions to complex problems of illegal immigration. A lawyer is, above all, a major role player of justice and law. Thus, the xenophobic attitudes are to be considered a violation of human rights and condemned accordingly."
Mr Geneus' letter is dated December 7 and was obtained by The Tribune.
Last week, Mr Johnson himself spoke out against Mr Munroe's comments, insisting that they were "diametrically opposed to the preservation of human dignity."
Additionally, Mr Johnson said Mr Munroe's statements showed a lack of regard for "the views or ideas expressed in the Universal Declaration of Human Rights."
Last year, the Haitian ambassador to the Organisation of American States, Bocchit Edmond, raised concerns about xenophobia and mistreatment of Haitians in the Bahamas.
At the time, Mr Edmond urged the Bahamian government to consider launching a public campaign designed to underscore the notion that "verbal abuse" of Haitians is "unfair and unjust."