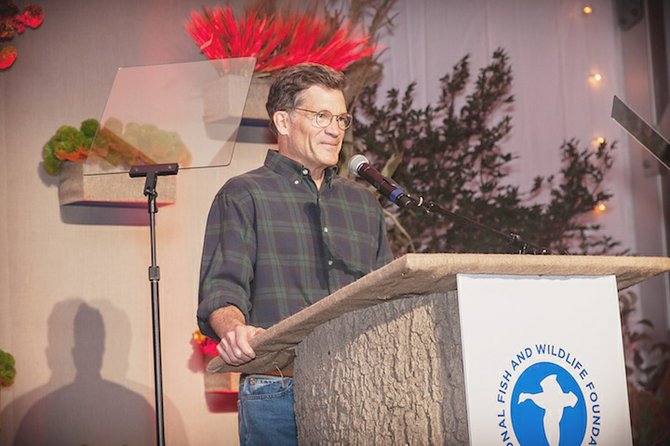 LOUIS Bacon's Moore Bahamas Foundation has announced that a substantial share of its $250,000 commitment to the islands of the southern Bahamas devastated by Hurricane Joaquin would go to helping children and teachers return to the classroom and begin to regain a sense of normalcy by supporting the replacement of destroyed school supplies.
The Foundation will award $50,000 to the Bahamas Reef Environment Educational Foundation (BREEF) to re-equip students with individual supplies and re-stock classrooms in Acklins, Crooked Island, San Salvador, Long Island and Rum Cay with collateral including marine-related posters, books and information intrinsically linked with lives on islands where fishing and the surrounding waters are critical to livelihood and at the core of the island culture.
Some schools were totally destroyed, others suffered roof damage or windows blown out. Even in school buildings still standing and in need of basic repairs, almost all equipment was flooded or washed away.
"In the weeks following the hurricane, it became apparent that to regain any sense of normalcy it was critical to get children back into classrooms," said Mr Bacon. "While the government of The Bahamas was and is doing all it can, one of our long-time partners in the conservation movement, Bahamas Reef Environment Educational Foundation (BREEF), proposed assisting officials by providing chests of supplies and we are very proud to support them in this effort."
BREEF's Executive Director Casuarina McKinney-Lambert said there are approximately 125 teachers in 19 schools on the affected islands and most schools need to replace all supplies and other educational content, particularly related to marine conservation. "BREEF has had a long-standing relationship with teachers and schools in these islands and previous grants from The Moore Bahamas Foundation in support of BREEF's Field Education Programme have contributed to providing supplies and resources to these special remote communities over the years," she said.
"Due to the hurricane, many of these supplies and educational resources have been completely destroyed and we propose to assist with replacing them to get the schools and communities back on their feet."
The contribution to BREEF this week follows last week's announcement of a $120,000 grant to the Rotary Clubs of The Bahamas and the Bahamas Chamber of Commerce and Employers' Confederation for Rebuild Bahamas, a long-term project for the restoration of commerce and provision of clean drinking water.
An announcement of the final recipient of the $250,000 pledged by the Foundation is expected to be made in the next week.
The MBF, the Bahamas affiliate of the Moore Charitable Foundation founded by Mr Bacon in 1992, seeks to promote environmental education to encourage protection of the diverse and fragile marine environment that constitutes 90 per cent of the island nation. MBF supports marine education programmes that prove successful in building awareness, particularly among students, about the importance of preserving precious marine and land resources.