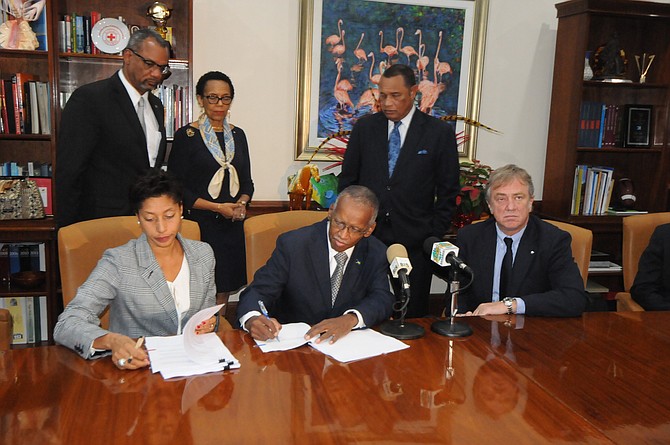 By RICARDO WELLS
Tribune Staff Reporter
rwells@tribunemedia.net
THE Mediterranean Shipping Company yesterday committed to the construction of a $100m private island cruise port, set to get underway at Sandy Cay in early 2016.
The development is expected to create 600 construction jobs and employ more than 300 permanent employees.
Prime Minister Perry Christie, along with MSC Cruises Executive Chairman Pierfrancesco Vago, signed a heads of agreement on Wednesday, with both sides hailing the moment as a major economic thrust for the northern Bahamas.
According to Mr Christie, the agreement paves the way for the construction of the "self-sustaining operation and environmental management" of a cruise port, the likes of which the country has never seen.
Additionally, Mr Christie said the cruise destination, set to serve 369,000 guests annually, is expected to feature shopping, dining, retail and recreational spaces, an amphitheatre and a ship-based infirmary.
The development's plans also call for a marine reserve at Sandy Cay, offering a unique diving experience for guests.
Mr Christie noted that historically, MSC's cruise activities in the Bahamas have in recent years generated around $17m of direct expenditure.
MSC is considered the world's second largest global shipping company. In addition to its shipping properties around the world, MSC has also generated one of the largest and fastest growing cruise lines.
Since it's inception in 2012, MSC has grown 800 per cent while encompassing a fleet of twelve cruise ships carrying 1.7 million passengers to 45 countries globally.
"It is anticipated that economic activity from the cruise port at Sandy Cay will bring an additional 465,000 annual cruise passengers to The Bahamas," Mr Christie said.
"This is expected to generate $20m in salaries for construction services and create over 600 new construction jobs, with 250 as full-time construction employees, over a two-year period."
The Sandy Cay project, once completed in early 2018, is expected to staff 361 employees on a permanent basis, generating roughly $13m in recurrent salaries and taxes in the Bahamas.
Prior to Wednesday's agreement MSC officials were locked in a stalemate with the Sandy Cay Development Company over the lease of the cay.
Sandy Cay Development Company held a 25-year lease on the island, on which the company mined sand and aragonite.
According to Mr Christie, Wednesday's agreement between the government of the Bahamas and MSC came subsequent to a deal between MSC and proprietors of the Sandy Cay Development Company.
Meanwhile, both Mr Christie and MSC officials dispelled concerns related to Sandy Cay's environmental integrity, insisting that studies have indicated that the island, despite years of sand and aragonite mining, is still capable of sustaining the intended range of construction.
Tony Myers, director of the Sandy Cay Development Company, told Tribune Business earlier this week that there was "a tremendous amount of work" that needed to be done before MSC's vision became a reality, given that the cruise port amounted to a radical change in the island's usage.
MSC is also a partner of another conglomerate and major Freeport investor, the Hutchison Group of Companies.
Hutchison Port Holdings, in association with the Port Group, owns and operates the Freeport Harbour and Container Terminal.
MSC recently committed itself to the $250m, phase five development at the port.