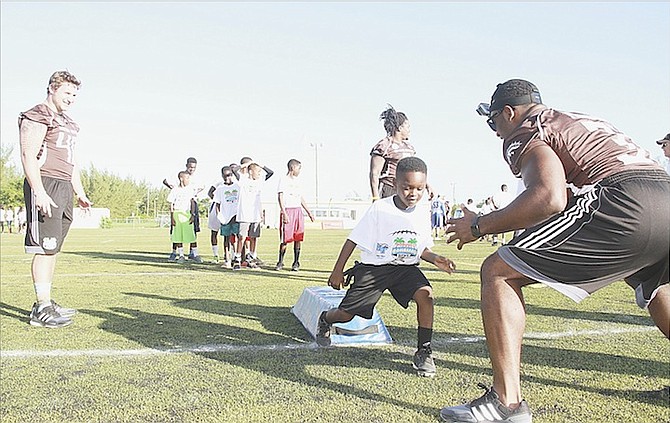 By RENALDO DORSETT
Sports Reporter
rdorsett@tribunemedia.net
BOWL week events continued yesterday for the inaugural Popeyes Bahamas Bowl as the organisers sought to foster a relationship with the local community and promote educational and athletic opportunities to the youth of the Bahamas through college football.
Student athletes and spirit squads from both the Middle Tennessee State Blue Raiders and Western Michigan Broncos participated in community-building exercises with aspiring youth football players yesterday.
In the second event on yesterday's schedule, they hosted a Youth Football Leadership Clinic, in conjunction with USA Football, at the Roscow Davies Soccer Field.
At the youth clinic, dozens of students from kindergarten to high school players took part in various drills by the USA Football staff players.
Broncos running back and MAC Conference freshman of the year Jamauri Bogan said he was thankful for the opportunity to use the game of football to give back.
"It's a once in a lifetime kind of thing. You don't get to go to the Bahamas everyday. Doing things like this, driving around the Bahamas and seeing some things that you would not see at home, it puts life into perspective" he said. "Sometimes we forget that, once practice gets long and we get tired and things aren't going our way we get down, but to come out here and really see things and it helps you realise that life is bigger than yourself. It was a great experience for each and ever player that was out here. We enjoyed it and we learned a lot."
Said fellow Bronco, record-setting junior receiver Corey Davis: "It's real fun just to come out here and see the energy that the kids bring. Some of them have never heard of football before so it's a fun experience. Off the field I think we're going to swim with the Dolphins. Pretty much lots of sightseeing. I've never been on an island before so I'm just taking it all in. We listen to Future and songs like 'Jumpman' to get ready, I promised the kids I'll do the 'Milli Rock' when I score so we'll see."
Blue Raiders kicker Cory Clark, on the verge of setting school history, said that after being treated to Bahamian hospitality it was fitting to give back.
"The Bahamas has been amazing, it's been great hospitality, the locals have treated us nice. They've made it a very pleasant trip so far," he said. "It's been a really fun time, we came here with one goal that's to spread the love of the game of football with the kids. We just wanted to try and make a difference and make their day better."
Chris Maddox, USA Football representative and clinic coordinator, said similar clinics could be integral in bringing some of the country's many talented athletes to American football.
"It was fun watching the kids run around and have a great time, they are getting to interact with and even tackle these guys and they had a blast doing it," he said. "There are a lot of good athletes here that play other sports, they're just now learning to play American football. It can crossover and as the popularity of the sport develops your better athletes will gravitate towards it. These kids watch the Super Bowl but they don't get to go out and play with their buddies afterward. This provides a connection and all helps the sport to grow."
Camp participant Kaizen Dorsett said the event was a learning experience. "We were able to learn a lot from the players, the basic things like catching, throwing properly, running with the ball and how to tackle," he said. "It was a lot of fun."
The matchup between the Blue Raiders and Broncos is scheduled for noon December 24 at the Thomas A Robinson Stadium, broadcasted live on ESPN and ESPN Radio. However, bowl week featured a list of supporting events which began with a team welcome party then team beach bash followed by yesterday's community-building exercises.