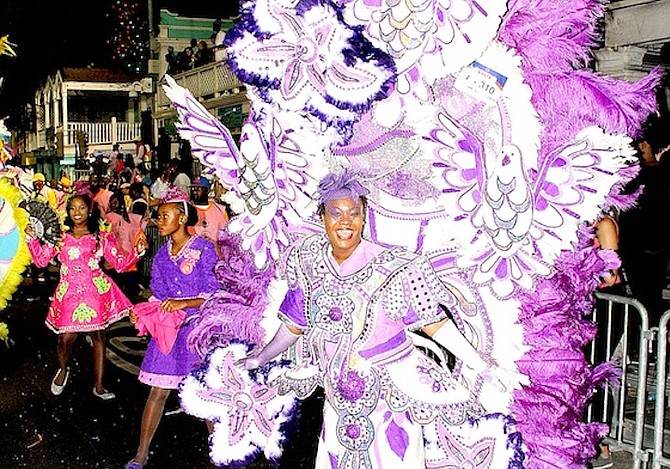 By RICARDO WELLS
Tribune Staff Reporter
rwells@tribunemedia.net
JUNKANOO Corporation of New Providence Chairman Silbert Ferguson has declared that the "true spirit" of Junkanoo will shine through during the highly-anticipated Boxing Day Parade tomorrow night.
"On Thursday at 10pm, downtown Nassau will come alive like never before," Mr Ferguson told The Tribune. Additionally, the Junkanoo veteran insisted that enthusiasts will be treated to a full three-lap parade, suggesting that groups will return to Bay Street for the all-important second stint.
"I am tired of this idea of us pushing this parade, our culture, into a specific arena. One that we can look at and walk away from. That isn't Junkanoo and that isn't our plan here," he said. "We are going to let the true spirit of our culture run wild. We have thousands of young people eager to express themselves through an art form that we all love. Nothing is going to hinder or shorten that."
The 2014 Boxing Day Parade was dogged by hour-long waits between groups and drew the events organisation much criticism.
Jeff Lloyd, chairman of the JCNP's Parade Management Committee, has said that officials are dedicated to presenting title sponsors and the Bahamian people with the parades "they rightfully expect and deserve".
Category A groups will start on Bay Street for their first laps, Shirley Street for their second and return to Bay Street for a third and final lap.
Meanwhile, Category B groups will be required to do one lap each on Bay and Shirley Streets respectively.
Ticket sales are reported to have picked up and Mr Ferguson emphatically dismissed suggestions that have been circulating that the parade had been moved to Monday morning. Earlier this week The Tribune reported that only 60 per cent of tickets made available for the Boxing Day parade – which starts at 10pm on Thursday – had been sold.
Tickets for Rawson Square are on sale for $48.38, Scotiabank (Parliament Street to Charlotte Street) tickets for $37.63 and John Bull (Charlotte Street to Frederick Street) tickets for $16.13.
2015 Boxing Day Junkanoo Parade
A Division (in order of entry)
1 Music Makers
With the promise of bringing a spectacular summer garden to Rawson Square this holiday season, the Music Makers are due out of the gate first tomorrow night.
The boys from Fowler Street are set to unleash 'Occasions - Just Say It With Flowers, A Message from the Heart' on spectators.
Highlighting the unique flora of the Bahamas with many of its pieces, the group hopes to "deliver" the belief that everything is better said with flowers.
Expect a colourful assortment of floral arts from the cowbellers, drummers, conch shell and black horn blowers.
2 Saxons
If history is any indication, then Mason's finest are set to tantalise.
Celebrating 51 years, the group is looking to take Junkanoo into a new stratosphere. Under the theme: "Introduction - Alien Invasion" the Shell Saxon Superstars are preparing to take Bay Street on an intergalactic journey.
Sci-Fi junkies are in for a treat as rumours circulating suggest Darth Vadar, Optimus Prime, Avatars and even Sky Lord and his Guardians of the Galaxy are all due to make an appearance.
Galatic Peacekeepers with super natural abilities will disembark on Bay and Shirley Streets during the first hour of Thursday night's parade.
3 Prodigal Sons
When the Prodigal Sons left the Valley Boys a few years ago, the Junkanoo world never expected this Yellow Elder faction to last.
This year, the 'Sons' are talking money, insisting that 'Money Makes The World Go Round' under the theme "Portraits of Bahamian Currency".
The group's free dancers section will come with the small change in 'tow', literally, as they will depict coins and bank notes of the Bahamas.
Meanwhile, the brass section is set to pay tribute to the Royal Bahamas Police Force Band, recreating the historic shot commemorated on the back of the one dollar note.
4 One Family
Defending their 2014 Boxing Day Crown the One Family Junkanoo Group and Community Organisation is hoping that their 'Japan - Land of the Rising Sun' theme results in a repeat victory.
Featuring lead costumes like 'The Emperor's Conquest', which features the first Emperor of Japan sitting on his throne aboard a Japanese vessel touring the waters after victory in the first Sino-Japanese War, and 'A Journey Through Japan', an experience of all things Japanese.
We will have to wait and see if the Farm Road contingent can deliver another classic performance.
5 Valley Boys
The Valley Boys, set to leave the gates in the prime fifth slot, will unleash the theme 'A Celebration of Peace, Love and Happiness - a timely message for the Bahamas and the World'.
One can expect buried deep within the melodious sound the trademark 'Valley or nothing'; however, this time it is surely to pack a lot of love.
Hearts, cupid, roses, kiss and everything February; that's how the Valley Boys have described their plans for Boxing Day.
Question is, do you feel lucky?
6 Roots
It is safe to say that love does, in fact, come more than once in a lifetime. It will on Boxing Day as the Roots present 'Love' on the heels of the Valley Boys.
With slogans like 'Love is Life' and 'Love Heals All' set to dominate Junkanoo circles once the Roots leaves the gate, hearts will be stolen.
Join the Roots Junkanoo Group on a breathtaking journey through the expressions of 'Love', as the the group returns to its roots.
B Division (in order of entry)
1 Original Congos
2 Fancy Dancers
3 Colours Entertainment
4 Conquers For Christ
5 Redland Soldiers

6 Body of Christ
7 Mystical Bombers
8 Englerston Pioneers
9 Foundation
10 Z-Bandits
11 New Vikings