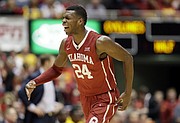 By RENALDO DORSETT
Sports Reporter
rdorsett@tribunemedia.net
FOR the third time this season, Buddy Hield set a new scoring career high and continues his stellar senior season as his draft stock continues to rise.
The Grand Bahama native scored 34 points to lead his No. 3 ranked Oklahoma Sooners to an 83-71 win over Harvard to win the Diamond Head Classic title on Christmas Day in Honolulu, Hawaii.
The Sooners remained undefeated on the season at 11-0. Hield shot a blistering 11-14 from the field, including 3-5 from three-point range and went 9-10 from the free throw line. He also added seven rebounds and two assists.
Hield scored 89 points in the tournament to surpass the previous record set by Klay Thompson of the Golden State Warriors.
"That was a really good Harvard team and I respect those guys. They challenged us, but we made some big plays at the end and came out with the victory. We have great players who can have big moments. Jordan (Woodard) made some big shots and Ryan (Spangler) kicked us off with those two 3-pointers. We needed that spark plug to keep that energy up and we were able to go from there."
Woodard also scored a career high with 28 points while Spangler added eight points and 15 rebounds.
"We just need to be efficient and keep playing defence and lock up on the offensive and defensive end. Coach (Kruger) is doing a great job and we just have to go out there and compete every possession."
Hield is currently fifth in the NCAA in scoring at 24.9 points and 5.3 rebounds per game.
NBAdraft.net projects him as a lottery pick for next June's NBA draft, while NBAdrafteexpress projects him to go in the mid-second round.
Bleacher Report also recently ranked him as the top player in the NCAA.
Sooners head coach Lon Kruger said Hield "is a special guy and not just because he scores."
"But because of the tone he sets with his work ethic and the tone he sets every day in practice. Obviously people see that he scores points like crazy, and good clubs need that, but Buddy is so much more than that to the programme," he said. "Other players appreciate the way he approaches every day and appreciate how he works out in the offseason. That's what the younger guys have seen growing up in the programme, and Buddy will have an impact on this programme long after he leaves."