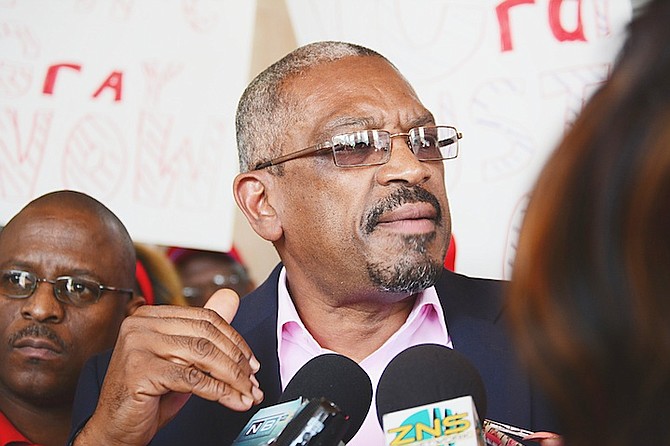 By KHRISNA VIRGIL
Tribune Staff Reporter
kvirgil@tribunemedia.net
AFTER the homicide rate reached a record breaking 147 for the year, Free National Movement Leader Dr Hubert Minnis said it is increasingly clear that the Christie administration's so-called campaign promise of a solution to crime was nothing more than "smoke and mirrors".
The Killarney MP castigated Prime Minister Perry Christie and National Security Minister Dr Bernard Nottage for what he called "deafening silence" over the country's festering crime situation and the government's strategy to eradicate the issue.
He noted in a press statement yesterday that despite Mr Christie's repeated promises to introduce new crime fighting strategies, the nation has yet to hear of such action or see them play out in communities where violent crime continues to take place.
Dr Minnis said since the Progressive Liberal Party took office in 2012 it has become a trend that whenever murders spike, both Mr Christie and Dr Nottage completely disappear and renege on their solemn oaths to protect and safeguard citizens. This behaviour he said can only be described as a "dereliction of duty."
"A few months ago, as it became increasingly clear that the murder record was in jeopardy of being surpassed, the prime minister announced that his government would roll out a number of anti-crime initiatives and strategies 'very soon'," Dr Minnis said.
"Shortly thereafter, as the murder record became imminent, the minister of national security sought to hypocritically lecture the media on his disdain for anyone referencing the murder rate surpassing 127 as a record. Interestingly enough, he had no reservations in 2011 when the now infamous PLP billboards highlighted the cumulative number of murders under the Free National Movement government and stated emphatically that those murders were indeed a record.
"To date, Prime Minister Christie has yet to systematically outline or strategically implement any crime fighting measures as a new year approaches. The prime minister continues, however, to announce that he will announce these initiatives in short order."
The statement continued: "Since May of 2012, it is increasingly clear that the Christie administration's so-called 'solution to crime' platform was nothing more than smoke and mirrors. In desperation for power and the reins of government, the PLP pivoted to political expediency and campaign brownie points by blaming the FNM government for crime during 2007-2012.

"It is nothing short of insulting and duplicitous, that they now wish to place blame for crime on all other stakeholders in society, while absolving themselves of any responsibility. At the next election, the Bahamian people must hold them accountable for failing to deliver on the promises they made."
Dr Minnis also criticised State National Security Minister Keith Bell, saying he only appears to find his voice during these trying times to tout the government's success with interventions and programmes which do not exist while throwing the Royal Bahamas Police Force under the bus.
"Incidentally, Senator Bell has still not provided us with the evidence of the PLP government's successes in the fight against crime that he so eloquently touted during his 2015 budget contribution in the Senate," Dr Minnis said.
While the FNM has previously released its proposed crime fighting strategies, Dr Minnis said programmes and initiatives would be implemented aimed at the root causes of poverty and crime if the party wins the next election.
"Best practices will be adopted and specific populations will be targeted initially for the purpose of commencing with pilot programmes. These initiatives will consist of full partnerships with all relevant stakeholders in society and will be evaluated regularly to ensure that targets and deliverables are being achieved. It is our belief and mandate that such programmes be introduced to positively impact the populations they serve, and to ultimately benefit society as a whole."
He said the FNM shares the pain of Bahamians who continue to live in fear of crime and criminals.
He said while the FNM cannot stop the pain, the party would fight for a better future and a new and better Bahamas.