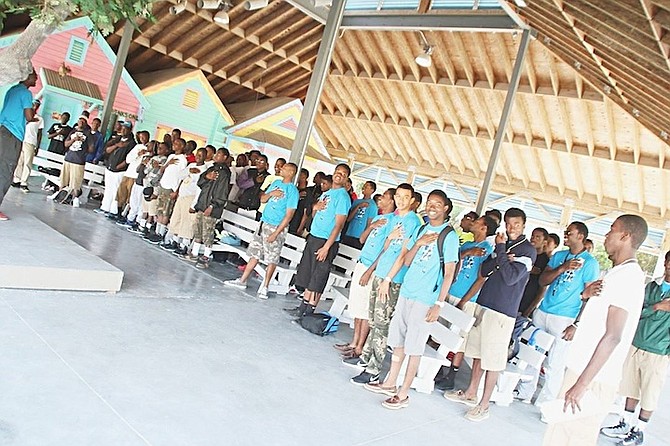 By RICARDO WELLS
Tribune Staff Reporter
rwells@tribunemedia.net
EXECUTIVES of the Democratic National Alliance joined several community leaders over the weekend to assist the Youth Empowerment Programme (YEP) with its third annual male youth retreat and mentorship event.
YEP organisers assembled a number of key speakers, including DNA leader Branville McCartney and deputy leader Chris Mortimer; ZNS television anchor Chris Saunders, local photographer, Scharad Lightbourne, Reverend Glen Rolle and Bahamian professional baseball player, Anton Richardson to address issues facing young men in Bahamian society.
Mr McCartney said the best way to move the Bahamas forward is to create positive change in the youth of the nation. He suggested that if more time and financial resources are invested in the lives of youth, they will eventually become the generation that makes the Bahamas the best country in the world.
Speaking directly to those in attendance, the former Bamboo Town MP said that the future of the Bahamas is dependent on their actions.
He said: "You have to work to overcome all negatives in your lives and never let the words that people say to you, determine what you become. If you dare to reach for greatness, then you can achieve it."
Mr Mortimer said that it is his belief that politics has "to a great extent" fractured our society and groups like YEP are " doing all they can to repair our society from the ground up".
He said: "Young people are our future. If we don't build them up, we don't have a country."
"Our nation has for a while, been exhausted by the political model we have now, we have to step as far away from that as possible and focus on building people. Once that is done, then we will slowly begin to rebuild our country."
YEP President and CEO Delano Munroe said he was pleased that "distinguished men" made the effort to share and interact with the young men. He said the connection between the two groups will serve as a reminder to the young men in attendance that they could "achieve anything they put their mind to in the midst of continuous failure and adversity".
Mr Munroe added: "It is critically important at this time in our country with all the new challenges and social issues affecting our young men, that our community, church, civic and political leaders must now step forward and connect with our young men in untraditional ways.
"Alarming statistics will show that a large percentage of our young men are growing up without fathers or father figures in their lives. Events such as the YEP Male Retreat and by extension the Youth Empowerment Programme over the years has served as a vehicle to help with filling that void in many of the lives of our young men."
Mr Munroe suggested that many of the nation's youth no longer feel connected to anything.
He said: "I believe that YEP has something great going on. We are able to connect our young people and make them feel a part of what's going on around them.
"No longer can we continue to wait on the young men to come to church or walk into a youth organisation, we must remove the box and do things differently to now reach out and positively affect change among our youth."
In January, YEP executives announced plans to expand their youth initiative to Eleuthera. According to Mr Munroe, to date nearly 1,000 students and roughly 150 mentors are enrolled in YEP Bahamas.
YEP Bahamas is a non-profit organisation that is registered with the Ministry of Education and the Ministry of Youth.