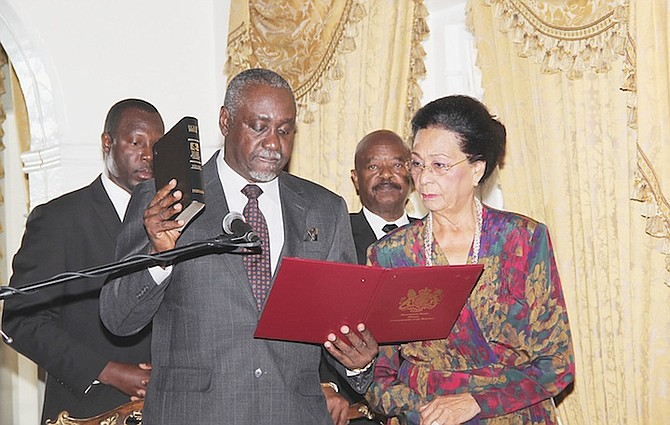 By KHRISNA VIRGIL
Tribune Staff Reporter
kvirgil@tribunemedia.net
HARTMAN Longley was sworn in as the country's new chief justice during a brief ceremony at Government House yesterday.
He succeeds Sir Michael Barnett, who left the post on January 31 to return to private practice.
Following his swearing in, which was attended by politicians, family members and well-wishers, the chief justice told The Tribune that he felt honoured to assume the post.
Attorney General Allyson Maynard Gibson later confirmed to reporters that Chief Justice Longley is expected to receive his knighthood in the coming weeks, as is the tradition.
She further congratulated the former Supreme Court justice, saying he was well qualified to lead the nation's judicial system.
"It's a very happy day in the Commonwealth of the Bahamas," Mrs Maynard-Gibson said.

"I would like everyone to remember now that Chief Justice Longley worked throughout the judicial system.
"He has been a member of the attorney general's chambers (and) has been a magistrate as well as on the Court of Appeal. He has led the court out of Grand Bahama and at a time when our non-Bahamian consultants have said that he is one of the most effective managers of the judicial process that they have ever seen. These are people who also advise the United Kingdom and other commonwealth countries.
"Now at a time when we really need to focus on the efficiency of the system they have made this observation about him."
She said Bahamians can look forward to Chief Justice Longley bringing his style of leadership to the bench.
"I believe that we will see in short order his vision and most importantly feel the impact of his vision.
"I congratulate Chief Justice Longley and Mrs Longley soon to be Sir Hartman Longley and Lady Longley. It is traditional for the chief justice to be knighted.
"I want to assure him as I have already of my complete support and I am really looking forward very much to working with him and the people of our country feeling the impact of his vision," the attorney general said.
Prime Minister Perry Christie and his wife Bernadette Christie, Deputy Prime Minister Philip "Brave" Davis, Minister of National Security Dr Bernard Nottage and other Cabinet ministers attended the ceremony.