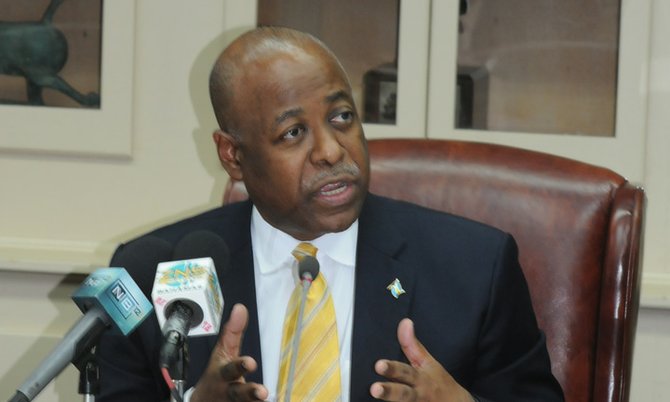 Reader poll
169 total votes.
By NICO SCAVELLA
Tribune Staff Reporter
nscavella@tribunemedia.net
TOURISM Minister Obie Wilchcombe yesterday called for FNM Leader Dr Hubert Minnis to "know what his role is" and said the Killarney MP should "find ways to unite" and not "divide" Bahamians over Junkanoo Carnival.
He said Dr Minnis' contributions are usually cause "for division in the Bahamas".
Mr Wilchcombe was responding to Dr Minnis' reported statements that the FNM "does not agree" with Junkanoo Carnival.
Dr Minnis has accused the government of "trying to steal someone else's culture and bring it here".
Dr Minnis' comments came days after Tall Pines MP Leslie Miller called Junkanoo Carnival "garbage", and then quickly apologised to Prime Minister Perry Christie for his "ignorance" on the matter.

"I think the leader of the opposition is better off at times to know what his role is and understand the Westminster model," Mr Wilchcombe said yesterday.
"The Westminster model is very simple; he's supposed to assist in governance with the understanding that subsequent to the period of time that the government served, you would have had an election."
"But what we see is a constant effort to divide our country. It's time for leaders to unite our country.
"A part of what we do in a democracy is to accept that there will be times when people disagree and express their views. But at all times after you express your views then you should sit and listen and consider the ways in which you can improve upon what is being considered negative.
"My concern is when the leader of the opposition, who is supposed to be a man responsible for uniting Bahamians, his contributions are usually to cause for division in the Bahamas. I think leaders must find ways to unite not divide."
On Sunday, Dr Minnis told a reporter that rather than promote Junkanoo Carnival, the government's focus should be on expanding Junkanoo so that "other artists, like reggae artists, can incorporate it into their music" instead.
The inaugural festival has faced intense scrutiny in recent weeks.
Last week, it was revealed that the members of the Carnival Commission were seeking to pay American pop star Janet Jackson $1.9 million to perform during the week of activities, a proposal that was rejected by the government.
Three members of the Carnival Commission recently resigned; two of them, Ed Fields and Freddie Munnings, reportedly left the commission due to issues with the government and the Janet Jackson proposal. The other, Inga Bowleg, reportedly needed more time to devote to her career.
The Bahamas Christian Council last week said it would not support the "immodest" costumes for the planned event, saying the scant attire could lead to "fornication, promiscuity, rape incest" and other "sins of the flesh."
Mr Wilchcombe has defended the festival, stressing that the celebration would encourage "Bahamianism" and not "sins of the flesh."
Junkanoo Carnival will be a series of cultural events scheduled to take place in April, in Grand Bahama, and in May, in New Providence.
Officials have indicated it will cost $9m to stage the event. Last week, it was revealed that only $1.5m has been spent so far.
Mr Wilchcombe would not confirm reports that the government was trying to lock down Barbadian singer Rihanna to perform at the festival yesterday, but said that the government was "giving consideration" to "certain names" with which it had been presented.
Mr Wilchcombe said that Carnival Commission Chairman Paul Major would be making an announcement "soon" to "confirm the many artists that will be there."