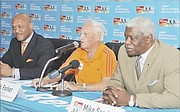 By RENALDO DORSETT
Sports Reporter
rdorsett@tribunemedia.net
IN 85 days, the Bahamas will again host the greatest track and field relay teams in the world as preparations begin in earnest for the IAAF World Relays Bahamas 2015.
The Local Organising Committee announced that tickets for the two-day meet will go on sale Friday (February 6) and members of the LOC are urging the local public to take advantage of the early opportunity.
The meet is scheduled for May 2-3 at the Thomas A Robinson National Stadium, and tickets are available in five different seating categories: Gold ($65), Silver ($45), Bronze ($35), general admission ($12) and general admission for children 12 years and under ($7).
Tickets can be purchased from the box office at the Thomas A Robinson National Stadium or online at www.bahamasworldrelays.org.
Keith Parker, executive chairman of the LOC, said international anticipation is already growing for the second edition of the meet based on the Bahamas' ability to successfully host in 2014.
"We can actually guarantee this is going to be a fantastic event. We are getting maximum assistance from the IAAF and it is a bargain price. The highest priced tickets we have is $65 and those that buy those tickets will see the same world- class athletes that compete in the Olympic Games and that will compete at the World Championships this year in Beijing," he said.
"You don't have to travel to see these world-class events, you can see that talent here so we have to take advantage. We are already getting international events for teams coming early and bringing supporters with them so I'm sure once the ticket launch is made known worldwide, we will probably see several thousand tickets sold today. So members of the Bahamian public I advise you to get your tickets early."
Mike Sands, LOC CEO and vice chairman, said local public support is the first step in ensuring the Bahamas can host the event to the standard set in 2014 and now expected by the global track and field community.
"The success of the event was directly attributed to the support we received from the public and their attendance. We look forward to the public's support by purchasing tickets and we look forward to you purchasing your tickets in advance at the box office and online," he said.
"We have been getting inquiries from the region and throughout the world as to when tickets are going on sale so we cannot impress upon you enough the urgency to pick up your tickets as soon as possible."
Sands, who is also president of the BAAA, said this year's event will have even greater significance with the pending IAAF World Championships this season and the 2016 Rio Olympics on the horizon.
"The World Relays will serve as a qualifier for the World Championships and for some athletes that meet is more important than the Olympic Games. It will also serve as a qualifier for the Olympic Games in Rio so this event is very significant to the athletes and countries participating. It is not too often at this level that countries have an opportunity to really put their teams together because they go on to individual performances as is their profession. So when they have an opportunity to try to get their qualifying out of the way so we anticipate this meet to be more significant for that reason," he said.
Several logistics changes have been announced at this early stage, including a 7pm start time to the meet and the elimination of the 4x1,500m relay in favour of the distance medley.
"Because of that move we anticipate there may be a few additional countries that may submit teams because it allows the smaller countries that may not have a plethora of distance runners versus a few individual top runners, to be able to compete in all events," Sands said.
With thousands of spectators, athletes and coaches expected to our shores, LOC managing operator Lionel Haven said an improved marketing approach is centred around disseminating information as early as possible.
"From the outset, the constant flow of information will provide that improvement on our approach. We intend to get out to the public a lot earlier. An event like this sells itself, we as an LOC don't have to sell tickets we just have to make sure the public is aware of all the details surrounding the event. Very soon you will start to see billboards going up around town, very soon you will see advertisements in all the local newspapers in print, you will also start to see advertisements on television and hear them again on radio. So we are going to flood the market with information," he said.
"We are extremely excited about increasing the level of excitement and enthusiasm through our online platforms. We are convinced that last year's success was due in part to the establishment of an effective online presence managed primarily through our website. Social media is also rapidly becoming the choice method of communication for many. These platforms allow us to reach all of our audiences in all of our family islands but far beyond our borders promoting the World Relays to an international audience around the world.
"So we have decided to expand our online platform this year. We are providing a more focused approach to these methods of communication and we encourage the public to engage with us on social media, provide feedback and help us to provide a 'Bahamazing' experience once again. We are optimistic that our expanded online presence this year will lead to early ticket sales and contribute to the capacity crowd that we anticipate this year. We are going to get to them a lot quicker on there than we would in the print media so we have to get them where they reside. We are looking to ensure that the flow of information is consistent, steady and a lot more early."
The box office is open 10am to 6pm Monday to Friday and 10am to 5pm on Saturday.