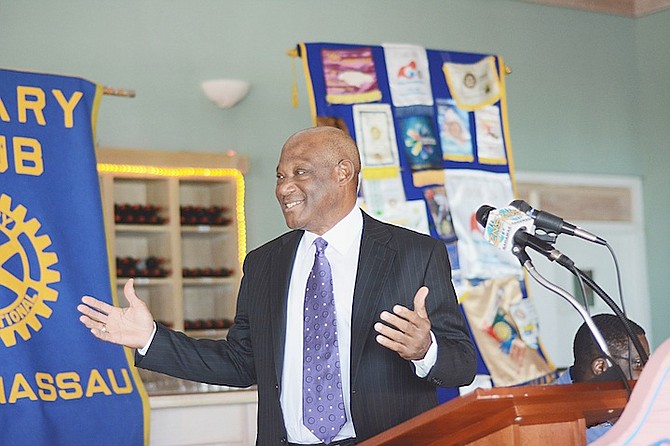 By NICO SCAVELLA
Tribune Staff Reporter
nscavella@tribunemedia.net
JUNKANOO Carnival Commission Chairman Paul Major yesterday defended the inaugural festival from critics who argue it would lead to social degradation, and said it was an "undeserving indictment" to "say that Bahamians can't conduct themselves in a festive atmosphere."
Mr Major also questioned the commercial viability of the existing Junkanoo product, saying the traditional Junkanoo model has no "economic benefit" for the country. He called it a "net expense" to the government, Junkanoo stakeholders and participants.
He also said an announcement on the festival's lineup of local entertainers would be delivered next week, while the announcement of the "Grammy award winning" international artist would come "shortly thereafter". According to published reports, the government is trying to nail down Barbadian singer Rihanna as Carnival's main act.
"I'm a church going person myself. I'm a Methodist, and I go to church 7 o'clock every Sunday morning when I'm here, so I would never ridicule the church for their positions. If they feel this can be a fallout from what we're doing that's their view," Mr Major said when asked about criticism of the festival from the Christian Council.
"I believe that as someone who has been to Carnival, that's been to (Rio de Janeiro), that's been to New Orleans, I think it is the undeserving indictment to say that Bahamians can't conduct themselves in a festive atmosphere such as a Carnival. That just doesn't compute for me. That's just not good commentary on us as a people," he said on the sidelines of a Rotary Club meeting at Poop Deck West.
Recently, Bahamas Christian Council President Rev Dr Ranford Patterson said the "immodest" costumes for the planned event could lead to "fornication, promiscuity, rape incest" and other "sins of the flesh."
Last week, Tall Pines MP Leslie Miller called the festival "garbage" and suggested Carnival could have a negative impact on youth by being sexually suggestive. He later apologised for his comments.
Free National Movement Leader Dr Hubert Minnis has called for the government to increase funding for traditional Junkanoo parades instead of spending the allocated $9 million on launching a new commercial cultural product. He also accused the government of copying other countries' culture.
In response, Mr Major yesterday said the current Junkanoo model has no "economic benefit" for the country.
"I've got the moral authority to say that having been a 'junkanooer' and having been on the Junkanoo committee," he said. "It does not bring any incremental tourists here, because the hotels are full anyway in the winter. So to have a Junkanoo Carnival in May when the hotels are virtually empty and to put the 'junkanooers' to work when otherwise they would be idle makes all the sense in the world to me.
"Some people have become impassioned about the name Carnival, some people are impassioned about Junkanoo, and I have nothing against any of those things. But what I say to people is, if you've got another model that would allow the people that have all this talent and ability to be able to earn a living from it, please come forward."
Last month, it was revealed that the members of the Carnival Commission were seeking to pay American pop star Janet Jackson $1.9 million to perform during the week of activities, a proposal that was rejected by the government.
When questioned on the issue yesterday, Mr Major said an announcement on the entertainment lineup will come soon.
"There are a number of acts that we're trying to negotiate," he said. "Until we've been able to firm up any one of them I wouldn't want to go public at this stage."
Prime Minister Perry Christie has also strongly defended the planned festival in recent weeks.
On Tuesday, he said the event would give thousands of young Bahamians the opportunity to earn a living doing something they enjoy.
Junkanoo Carnival is scheduled for May 7 to 9 in New Providence with an earlier festival in April planned for Grand Bahama.