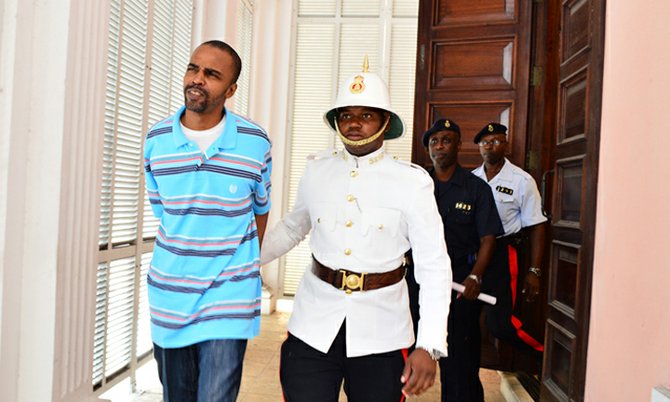 By LAMECH JOHNSON
Tribune Staff Reporter
ljohnson@tribunemedia.net
COURT of Appeal judges were told by convicted child killer Kofhe Goodman's lawyer that he would seek a deferment of a retrial if the court allowed the appeal against his client's murder conviction and death sentence due to the publicity of the matter.
Wayne Munroe, QC, was responding to a question posed by Justices Anita Allen, Neville Adderley and Jon Isaacs on what the appellant was seeking to achieve if the court set aside the conviction and punishment concerning the September 2011 murder of Marco Archer, 11, of Brougham Street.
As yesterday's substantive hearing was unable to begin due to some parts of the trial transcripts being unavailable, the judges sought to determine the appellant's end goal.
Mr Munroe explained that the issue of pre-trial publicity of the case and its possible effect on the jury was a ground of appeal that was filed.
He added that if the court were to find merit on this ground, in that the jury had not been reasonably questioned on their knowledge of media reports in the matter, then there would have to be a remedy.
The QC suggested that a deferment of a retrial, until the publicity subsides, would be best.
The appellate court adjourned the matter to March 4 for a status hearing.
Mr Munroe was told that he would be given two weeks to comply with the court's new practice directive in filing a transcript index outlining the specific portions of the transcript on which he intends to rely during the appeal.
This would allow Crown respondent, Director of Public Prosecutions Garvin Gaskin, to file submissions in response.
The appellate court put the new measure in place, effective January 23, due to cases like Goodman's, whose trial lasted four months and had transcripts exceeding 1,000 pages.
In 2013, trial judge Justice Bernard Turner, in handing down his sentence, noted that abducting a child, fracturing his skull with a blow to the head, placing a bag around his head and discarding his naked, lifeless body in bushes can be considered to be "the worst of the worst" in the guidelines for sentencing set out by Parliament.
Justice Turner, in considering the death penalty, regarded the mitigating factors and the circumstances of the case – Goodman's previous convictions for unnatural carnal knowledge in 1993, attempted murder and causing grievous harm in August 1998 – and was "satisfied that the circumstances of this case required that a penalty be imposed."
"This case is a clear and compelling case for the ultimate sentence of death, to satisfy the requirements of due punishment for the murder of this child and to protect this society from any further predatory conduct by this convict at any time in the future. Kofhe Edwardo Ferguson Goodman, I hereby sentence you to suffer death in the manner authorised by law," the judge had previously ruled.