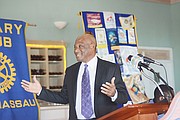 By NICO SCAVELLA
Tribune Staff Reporter
nscavella@tribunemedia.net
BAHAMAS Junkanoo Carnival Commission Chairman Paul Major yesterday said he was "not concerned" that the controversial resignation and subsequent reinstatement of two key commission members would have a negative effect on the commission's work to promote Carnival.
His comments came after Ed Fields and Freddie Munnings Jr reportedly opted to continue working with the commission after having resigned two weeks ago because of issues with the government. Another member, Inga Bowleg, left after reportedly needing more time to devote to her career.
Mr Major said he was not concerned about the negative impact the resignations and potential reinstatements could have on the commission's plans for Carnival. "The Carnival will happen," he said. "Whatever resources we need to make it happen will be there. Ed Fields and Freddie Munnings have been bedrocks in terms of getting us to where we are; organising the musician's society, the companies that will participate in the parade, all the events. Organising or laying out the cultural village. They've been invaluable in their contribution to everything we've done so far.
"So we'd love to have them continue and I think they will quite frankly because these gentlemen are committed to the advancement of culture and the advancement of small and medium business enterprises."
Last month, it was revealed that Mr Fields, Mr Munnings and Ms Bowleg reportedly resigned after the government refused to sign off a near $2m deal for Janet Jackson to perform during the inaugural event in May, according to Tourism Minister Obie Wilchcombe.
Mr Munnings reportedly resigned due to "bureaucratic interference by political operatives and certain ministers of the government".
Mr Wilchcombe subsequently admitted his direct involvement in the matter, and said the communication between the two parties on the matter was "off".
Earlier this week, Mr Fields and Mr Munnings announced their decision to continue working with the commission, but it has not been confirmed whether their resignations have been rescinded.
However, Prime Minister Perry Christie has reportedly expressed his desire to have both back as members of the commission.
Junkanoo Carnival will be a series of cultural events scheduled to take place in April, in Grand Bahama, and in May, in New Providence.
Officials have indicated it will cost $9m to stage the event. Last week, it was revealed that $1.5m has been spent so far.
According to Mr Major, an announcement on the lineup for local entertainers will come next week, while the announcement for the "Grammy award winning" international performer will be announced "shortly thereafter".