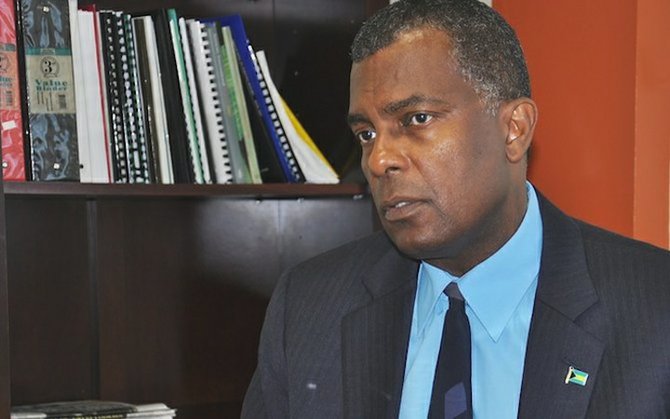 By RASHAD ROLLE
Tribune Staff Reporter
rrolle@tribunemedia.net
FOREIGN Affairs and Immigration Minister Fred Mitchell is confident the government enjoys the support of most Bahamians for its latest immigration restriction, which mandates that children of non-Bahamians have a student permit to attend school.
Mr Mitchell expects to meet with education officials today to discuss the policy.
His comment comes in the face of pushback over the policy from some members of the Free National Movement, including former Deputy Prime Minister and Immigration Minister Brent Symonette and former Education Minister Desmond Bannister.
Mr Mitchell said: "Immigration enforcement is broadly supported by the Bahamian public. There's been nothing to suggest support has declined on any of these measures."
As for the meeting he will have with education officials today, he said: "It's an administrative meeting more than anything else. The minister (of education) has announced the position of the ministry on the matter so this meeting is just to make sure everybody understands what's happening. I expect it to be very successful."
Regarding criticism of the timing of the policy, which comes months ahead of the next school semester when the policy will take effect, Mr Mitchell said: "Timing is always an argument the opposition party engages in. But the time for debating is over. We've come to the point where the public is demanding action."
The FNM universally supported the government's immigration policy that came into effect last November. The policy, among other things, required people to have a passport of the country of their nationality and it marked the end of the practice of accepting work permit applications from people who are in the country illegally.
However, the latest measure has drawn criticism from FNM members, with Mr Symonette saying it is not "well thought out" and Mr Bannister calling it discriminatory and immoral.
"With this new policy, I'm nervous that you are going to drive people away from school," Mr Symonette told The Tribune in an interview last week. "They won't leave the Bahamas and you will have an uneducated, unhealthy section of the population that may lead to more anger and issues that could harbour crime."
For his part, Mr Bannister said: "What the government is doing is keeping education free while creating obstacles for those whose parents may not be here legally, or those who cannot afford the fees charged by (the Department of) Immigration. They are in effect creating a society of the 'haves and the have nots' in similar fashion as when certain states in the US imposed poll taxes on blacks to prevent them from exercising their newly found right to vote."
Last week, Minister of Education Jerome Fitzgerald said that the government is "resolute" over the student permit requirement for children.
"As the minister of education, I support Minister Mitchell and the Immigration Department in their attempts to enforce the immigration laws of our country," he said.
"At the end of the day, we have to ensure that when dealing with children, we understand we have to have a balance in our approach, but we intend to enforce the immigration laws of the country and we expect not only for non-nationals to be registered, but for Bahamians to be registered because we have a challenge now where some Bahamian mothers are not registering their children at birth and getting birth certificates and this causes a problem at the end of the day when they go to get passports."