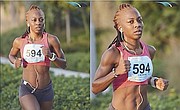 By ALESHA CADET
Tribune Features Reporter
acadet@tribunemedia.net
IN addition to having a fit body, for Crystal Strachan the benefits of being an athlete include the lessons she has learned when it comes to patience and discipline.
Thanks to her training, she said, she is a lot stronger mentally and nothing really upsets her for long. Her stress levels have decreased and she has become more optimistic as a person.
As a half miler/half marathoner, Crystal's athletic journey spans over 15 years. She has also training for longer distances for the past two years.
"I started out running longer distances in my first years of high school and then quickly transitioned to 400m and 800m. I decided to go back to distance since I'm naturally good at it and speed is not my forte," she told Tribune Woman.
"From September to November of last year I had been training in Iten, Kenya (a city known as a training ground for professional runners due to its high altitude). I've placed in the top three in the Race for the Cure half marathon and first in the 5K. I was the second female to cross the line in the Bahamas Half Marathon," she said.
And running runs in her family. "I'm a twin, my sister's name is Crista and she's actually a better runner, but she doesn't run currently," Crystal said.
The Nassau native said being a runner comes naturally to her and she enjoys the competition aspect of the sport. Competing is fun for her and she loves meeting other athletes who enjoy it as much as she does.
"My talent is running longer distances; it's always been that," she said. "I just never embraced it because it wasn't the most popular event and the training is a lot more intense. But now that I'm older I've grown to appreciate it. My mom and dad motivated me to get into track and my sister helped as well because growing up we were super competitive."
She said her father, Michael T Strachan, is a big influence in her life because she not only gets her endurance from him, but he has always been interested in learning about her training and the sport. Her twin sister is also influential because she is Crystal's number one fan and toughest competitor. Also on that special list is her teammate, Oneil Williams, who believed in her and the distance programme when others did not.
Crystal counts making the junior and senior national teams for the first time, tearing her hamstring in high school and her journey back from that injury among the most memorable moments in her career. Earning a full athletic scholarship to a Division 1 College, completing in her first half marathon and receiving a bronze medal with the Senior CAC 4x400m relay team in Cali, the recognised sports capital of Colombia, were also significant milestones.
Crystal said Bahamians have been really supportive and encouraging of her career. "I'm always being asked about my age and why I would choose to go all the way to Kenya and how can I run for such a long time. They are so interested in what I'm doing," she said.
Going forward, she would like to continue running for as long as she can. However, Crystal said competitively she will probably stick with it until her early to mid-30s.
"I would like to make it to the Olympics and World Championships in my track events. After that I would just like to run for the fun of it. I do things because I love them. When I run, I run with heart; it's my mantra," said Crystal.