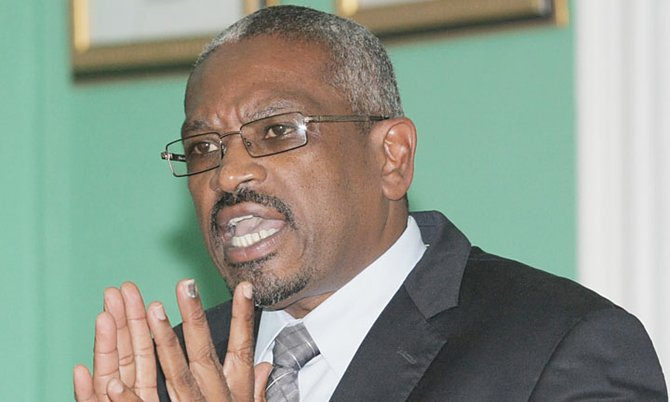 By KHRISNA VIRGIL
Tribune Staff Reporter
kvirgil@tribunemedia.net
FREE National Movement Leader Dr Hubert Minnis yesterday criticised the Christie administration saying it did not believe in Bahamians after young medical students were reportedly told the government had no money to employ them upon completing their exams.
Speaking in the House of Assembly, Dr Minnis said it was a shame the government was re-hiring civil servants who had already retired, at a cost of around $530,000, but could not find the money to employ 17 young doctors.
He went on to criticise the government's handling of finances related to the Bahamas Agriculture and Marine Science Institute (BAMSI) and the upcoming Bahamas Junkanoo Carnival, which has a budget of $9m.
"These students would be paid an average of about $30,000 per annum. It means that if they hire these 17 students whom the government has informed that there is no place for, it would cost about $520,000 per annum to hire these students," he told parliamentarians.
"There is $9m being wasted on Carnival. Which is more important? These young people who represent the future of our country versus the Carnival that you are trying to introduce?
"You are hiring all of these retirees when you can take three retirees and put aside $530,000 and hire these young people. The young people represent our future."
He said there were 45 Bahamian students preparing for final medical exams expected in June this year. Of that group only 28 will be accommodated – 24 in New Providence and four in Grand Bahama.
Following the House of Assembly morning session, Dr Minnis told The Tribune that the remaining doctors were told they could complete internships at the Princess Margaret Hospital, but it would have to be free of charge.
Dr Minnis said there was a need for additional physicians in the health care system. He said the fact that the Critical Care Block at PMH is not fully open despite its commissioning last month is evidence of this.
Dr Minnis' at times passionate communication elicited ridicule from some government MPs. Education Minister Jerome Fitzgerald said there was no existing challenge in the country with hiring doctors. He said to suggest otherwise was "completely ridiculous".
Prime Minister Perry Christie later stood in the House of Assembly to refute Dr Minnis' claims.
He said each of the 45 doctors who are preparing to sit their examinations will be accommodated, in spite of what they may have been previously told.
"He (Dr Minnis) says the country has a situation before it where it has a substantial number of young people going into medical school," Mr Christie said.
"But the minister of education is quite correct. We have introduced now a bond system where there is a requirement when they educate, they go to rural areas of this country where (it is) necessary."
He also defended Junkanoo Carnival as an initiative that not only gives incentives to young Bahamas but is expected to attract thousands of visitors to the country.
"Mr Speaker, Carnival has spent $1.6m to date," Mr Christie said.
He added that Carnival spending is going towards incentivising businesses and companies.
"People who are coming in to sell costumes, they are providing seed money to incentivise new people going into business."
Mr Christie also took issue with Dr Minnis' assertions that the government is not investing enough in Junkanoo.
"There is no person, Mr Speaker, in this country, none who can challenge me in my cultural commitment to Junkanoo," the prime minister said.