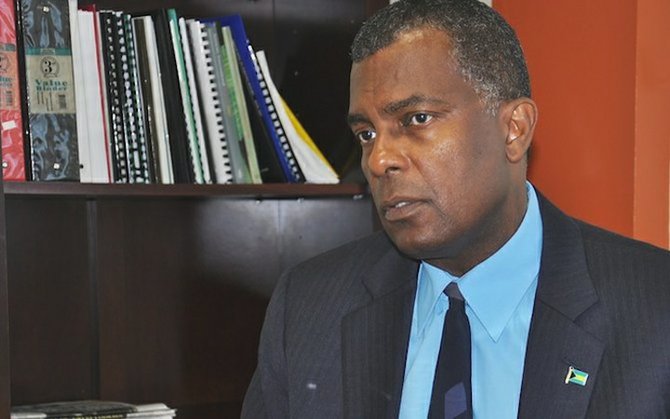 By AVA TURNQUEST
Tribune Chief Reporter
aturnquest@tribunemedia.net
THE Department of Immigration will host a multi-agency planning meeting ahead of intensive immigration checks set for Abaco.
Immigration Minister Fred Mitchell hinted that checks would come "within the next 42 days" during his contribution to the mid-year budget debate on Monday.
"This operation planned for Abaco will take significant resources and planning if it is to be successful in dealing with this vexing problem," Mr Mitchell said.
"It will require community support and it appears from our meetings at the start of the year on January 2 and 3 in Coopers Town, Marsh Harbour, Hope Town and in Sandy Point, that there is significant community support for the immigration effort."
Abaco has two of the largest shanty towns in the country, The Mud and Pigeon Pea, and the majority of its residents are believed to be of Haitian descent.
On Monday, Mr Mitchell released year-end statistics that indicate that 40 per cent of Haitians apprehended during November and December 2014 – following the implementation of a stricter immigration policy – were repatriated.
He revealed that repatriations conducted as of December 2014 have exhausted the Ministry of Foreign Affairs and Immigration's deportation budget with six months left in the fiscal year.
According to official repatriation figures released by the Department of Immigration, repatriations of Chinese nationals tripled last year.
Twenty-seven Chinese nationals were repatriated in 2014, three times higher than the nine persons immigration officials deported in 2013.
Repatriations of Dominican nationals more than doubled from 49 persons in 2013 to 106 persons in 2014. Cuban nationals repatriated in 2014 represented a 25 per cent increase over 2013 figures from 157 persons to 197 persons, and deportations of Jamaican nationals decreased by four per cent from 300 to 288.
Official deportation statistics reveal there was a 19 per cent increase last year over the total number of persons repatriated in 2013.
The Department of Immigration repatriated 4,628 foreigners – 3,814 of whom were Haitian – for the period January 1 to December 31, 2014.
The figures are significantly lower than preliminary numbers Dwight Beneby, deputy director of immigration, released earlier this month.
Mr Beneby told The Tribune that the department had repatriated 3,868 Haitian nationals in 2013; however, this figure represented the total number of repatriations for the year.
The department repatriated 3,033 Haitian nationals in 2013, and recorded a 26 per cent increase in 2014.