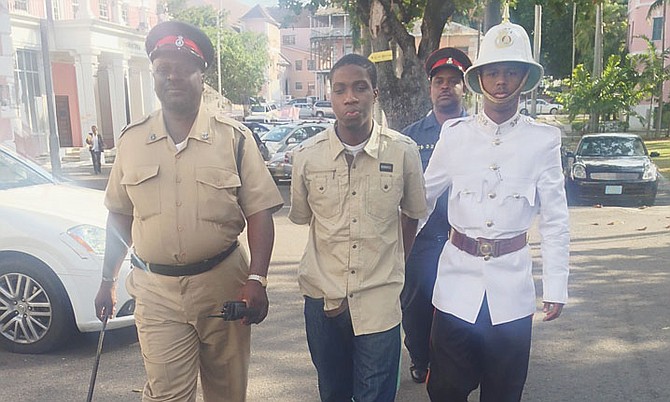 By LAMECH JOHNSON
Tribune Staff Reporter
ljohnson@tribunemedia.net
A MAN seeking five years on probation for the knife-point robbery of a tourist in a hotel room told a judge yesterday he would have "walked the moon" to avoid what happened two years ago.
Stephen Greene, 22, made this claim in response to a prosecutor's submission to Justice Ian Winder that he should receive 25 years' imprisonment concerning the armed robbery and grievous harm done to Mark Kowalski on December 13, 2012.
Kowalski was on vacation in the Bahamas from Pennsylvania, USA, and was in his room at the former Sheraton Beach Resort when he heard a knock at the door.
When he partially opened the door, two men forced their way inside. However, he resisted the robbery and was stabbed in the chest and his ring finger was almost severed during the scuffle. Kowalski's iPod and $40 cash were taken during the incident.
Last April, 21-year-old Anthony Greene, in a plea deal with prosecutors prior to trial, was sentenced to 12 years' imprisonment after pleading guilty to attempted murder and armed robbery in connection with the incident.
A jury acquitted Stephen Greene of attempted murder last week, but found him guilty of armed robbery and causing grievous harm.
The unrepresented convict addressed the judge yesterday for some ten minutes.
"I could only ask the court at this time to be lenient and ask for its mercy in sentencing. I submit to the court to consider a conditional sentence of five to seven years' probation," Greene said, adding that he was "prepared to pay the funds stolen from the incident".
"In these days and times, one would find it hard to find employment and a source of income with a dirty record," the 22-year-old explained. He added that his parents, who provided for him, particularly his mother, did not support his life choices.
"I know that crime is high in our community and I know the law has to take its course, but I ask the court to grant me a conditional sentence. Fox Hill Prison, it's now called the Bahamas Correctional Services, it's no place for rehabilitation. I'm not a perfect person. I made mistakes, but I try to do my best."
"I talk to God everyday m'lord and the more I try... I find myself in hard situations and circumstances. I take this as a trial the Lord has put me through."
Greene said that although the matter has brought embarrassment to him and relatives, "I'm still happy I can stand here strong."
He said he was not ignorant of the importance of the tourism industry to the Bahamas and the repercussions of increasing crime, adding: "But I ask this court to be as lenient as possible in giving me a chance to better myself."
"This is the time of my life where I need to be achieving something. This is the best time for me to direct my future and get back out there and engage myself in making an honest living," he added.
"This was a stranger to our country," Justice Winder interjected, further questioning why he should not be sentenced to jail time.
Kevin Farrington, Crown prosecutor, asked the court to bear in mind that the victim was celebrating his 65th birthday and he and his wife were enjoying themselves at the beach moments before he returned to his room where the incident unfolded.
Farrington submitted that Greene's involvement in the incident resulted in Kowalski sustaining a punctured lung, a slightly severed finger and an injury to a thigh.
"Kowalski had to undergo psychological counselling and has developed fear of going out at night and new places," the prosecutor said.
Farrington added that the other defendant in the matter did not waste the court's time and did not "put the Kowalskis on the stand to relive the harrowing experience."
The 22-year-old convict, Farrington said, "is not entitled to what Anthony Greene got."
"Justice falls at the feet of the court and we feel the court has to send a strong message to society," Mr Farrington argued.
He urged the court to impose a 25-year sentence for armed robbery and seven years for causing grievous harm.
Justice Winder asked Greene if he wished to respond to the submission by the Crown and the convict said: "If I could do anything to avoid what happened to the Kowalskis, I would have walked the moon to make it happen."
Justice Winder said he would hand down his decision on February 26.