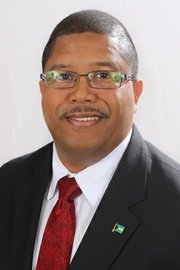 By KHRISNA VIRGIL
Tribune Staff Reporter
kvirgil@tribunemedia.net
THE Public Accounts Committee (PAC) is expected to soon submit a formal report to parliament following an extensive probe into the operations and expenditure of Urban Renewal 2.0, Free National Movement Deputy Leader Peter Turnquest said yesterday.
Mr Turnquest, who sits on the committee of five members, said there were several elements of Urban Renewal that were concerning.
He said he is not satisfied that the programme is fulfilling its mandate adding that there needs to be more scrutiny over Urban Renewal's spending.
However, because the initiative is currently still under review by the PAC, Mr Turnquest told The Tribune that he could not go into much detail. However, he said, the PAC has a preliminary report, which it must follow up, and then a report will be submitted to the House of Assembly before it is officially released.
He did not say specifically when this would happen. Three opposition members of parliament and three government MPs sit on the PAC.
In the 2014/2015 budget, $9m was allocated to Urban Renewal. Grand Bahama received $2m of that budgeted amount.
"The Public Accounts Committee," Mr Turnquest said, "has been looking at Urban Renewal for a little while and we are in the midst of reviewing their activities.
"Just from looking at the surface of Urban Renewal I believe that it is not fulfilling its mandate especially in regard to inner-city communities.
"I also agree that there needs to be more transparency and accountability with Urban Renewal's spending and operations.
"There ought to be a real concern from Bahamians on whether we are getting value for money."
He criticised the initiative's effectiveness in inner-city communities where there continues to be a scourge of crime.
The most recent example of this came on Monday night with the shooting of four people in a drive-by attack on Plantol Street, off East Street. Two of the victims died at the scene while two others are recovering in hospital. The deaths took the country's murder count to 20 for the year.
"Is it really being effective with the youth? I don't think so," the East Grand Bahama MP said.
"It is unclear what they even do outside of the marching band, which I will add is a credible intervention. But my point here is that we need more, we need a lot more creative programmes," Mr Turnquest added.
Last week, Urban Renewal Commission Co-Chair Algernon Allen said $2m was spent during phase two of the programme's Small Homes Repair Project to renovate roughly 220 homes.
He said over the next five months, an additional 200 homes would be repaired at an estimated cost of another $2m.
At that time, Commission Co-Chair Cynthia "Mother" Pratt said the organisation would this year again aim to expand many of their initiatives.
She said: "What we are trying to do this year is complete the Small Homes Repairs mandate. There are still a number of homes we have to complete work on," she said.
"Also there is a great demand from the public to increase the number of Urban Renewal Centres presently in operation. You see, if there is a demand by residents in these communities that tells me that something is right."
According to Mrs Pratt, the work being done by Urban Renewal is "definitely saving and improving lives". She suggested that community leaders and politicians should stop pointing fingers and work together to improve the lives of persons in urban areas.