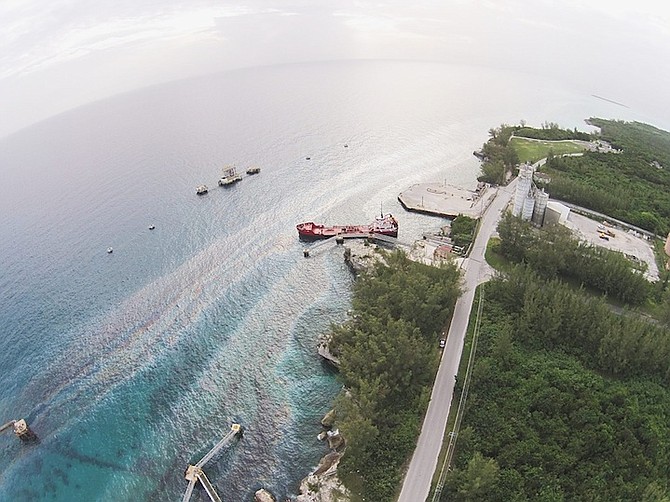 By AVA TURNQUEST
Tribune Chief Reporter
aturnquest@tribunemedia.net
ATTORNEY General Allyson Maynard Gibson yesterday confirmed that her office has vetted an "internationally accepted" consultant to guide remediation for decades of environmental degradation at Clifton Pier.
Mrs Maynard Gibson would not reveal the name of the consultant, but added that the advisor was already working in the Bahamas.
She gave the update in response to opposition Senator Michael Pintard, who renewed concerns over the government's inaction and culpability as it related to the long-standing oil leaks.
"We've done a contract to engage a consultant in relation to advice for remediation," she said, "and I expect my colleague the minister of environment to make an announcement."
Mrs Maynard-Gibson added: "There are several entities at Clifton that utilise hydrocarbons and nobody knows, as I indicated this has been going on for decades nobody questions that. Nobody knows whether or not and how much any of those enterprises there have contributed to what is environmental degradation. So we have to see what evolves and what transpires from remediation and also the advice rendered by the experts."
Last month, Prime Minister Perry Christie revealed that the government had allocated $10m towards the removal of oil from waters off Clifton Pier. At a coral reef preservation conference at Paradise Island, he said the money had been spent bringing in engineers for remediation. However, he did not confirm whether the government had identified a culprit in the matter, adding that the government would not allow any "entity that is at fault to bring such damage to this country".
Last September, residents of Adelaide complained of waves of "smelly black oil" that had washed up on the beach, claiming that it might have been the result of the continuing oil leaks from BEC's Clifton Pier plant. Their concerns were echoed by dive company Stuart Cove's, whose proprietor told Tribune Business that his diving business had suffered a "huge" impact after its boats and facilities were covered in oil.
Last October, it was discovered that fuel from BEC was mixed with oil from another source that began spilling into canals near Stuart Cove's Aqua Adventures and Albany.
During a subsequent address in the House of Assembly, Environment Minister Ken Dorsett said an inspection of BEC's plant revealed that not only was fuel being discharged from one of the facility's outfalls, but it also revealed that BEC's containment booms were not preventing all of the fuel from spreading.
He later said the government would not "sit idly by and allow the continued degradation of the environment while waiting on an assessment to determine who to point the finger at".
Yesterday, Mrs Maynard-Gibson said: "People take what we say in this place (the Senate) seriously and they have a right to assume that we know what we are talking about. As I've indicated nobody can say A, B, or C caused whatever percentage of the damage, and we have to let the process take its course now that we do have experts involved."