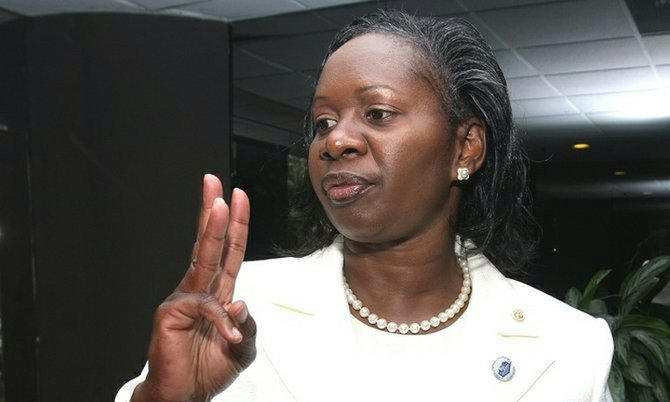 By NICO SCAVELLA
Tribune Staff Reporter
nscavella@tribunemedia.net
BAHAMAS Union of Teachers President Belinda Wilson yesterday called for Education Director Lionel Sands to "do the honourable thing and move on" from his post.
Responding to recent criticism of her by Mr Sands, Mrs Wilson questioned his "purpose" as education director, and said if Mr Sands is not "up to the task of improving education" he should step down.
She said rather than attack her, Mr Sands should "use his time more efficiently by articulating his vision for education," adding that his vision is "still unknown to the people he has been chosen to lead."
Mrs Wilson's statements came after Mr Sands said that the union leader's actions in recent weeks over scabies cases in schools were over the top. Mr Sands claimed that the union president "interrupted and confused" matters with her actions.
In a statement released yesterday, Mrs Wilson said Mr Sands "never bothered to ascertain the facts from the teachers or the president." She said his actions and comments "allegedly shows that he does not care about the welfare of teachers or students as he did not even visit any of the schools in question."
She added: "Maybe Director Sands could use his time more efficiently by articulating his vision for education as he has occupied the chair for 10 years and his vision is still unknown to the people he has been chosen to lead," she said. "He should answer the questions that are so frequently asked by teachers and his colleagues. What is his purpose? What has he done to advance education? What legacy will he leave? Has education been better or worse because of his tenure?
"If he focuses on these important elements he would not have time to attack the president . . .and our educational system would be much more successful, organised and relevant to meet the needs of the 21st century students and a 21st century nation. Examine yourself and if you are not up to the task of improving education then do the honourable thing and move on."
Last week Mr Sands denied reports that another school had been quarantined due to a severe scabies outbreak, at the same time calling Mrs Wilson's actions on the matter "way out of line".
According to Mr Sands, Public Health Authority (PHA) officials carried out "a simple screening exercise" at Yellow Elder Primary last Wednesday.
Sources within the Ministry of Education told The Tribune that, following the screening exercise, one student was referred to a local clinic for further testing and the school given "the all clear".
However, Mr Sands insisted that Mrs Wilson was "way out of line" in her handling of the scabies problem.
However, Mrs Wilson yesterday blamed Mr Sands for disseminating "erroneous information."
"To the contrary, I 'intervened' and helped to 'resolve' matters at Yellow Elder Primary school as I convinced a few parents to leave their children to ensure they were screened," she said. "In fact, if (Mr Sands) was proactive then maybe the president and the union would not have had to get involved.
"Let me remind him, that this was an emergency and it is a health and safety issue, and he should know that the employer, that's the Ministry/Department of Education for whom he works and the BUT should work together with a view to developing a plan to resolve the problem. Unfortunately, instead of consulting with me, he prefers to insult me while I perform my duties."
So far, DW Davis, TA Thompson, TG Glover Primary, Woodcock Primary and North Andros High School have all had confirmed cases of scabies.
This week, Mr Sands told The Tribune that the ministry has "no concerns" of scabies possibly spreading to more schools in the country.