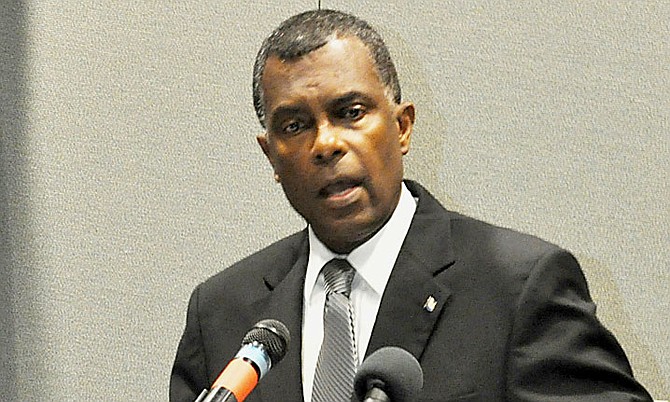 By KHRISNA VIRGIL
Tribune Staff Reporter
kvirgil@tribunemedia.net
FOREIGN Affairs and Immigration Minister Fred Mitchell said yesterday that the government has asked the Utilities Regulation and Competition Authority (URCA) to investigate comments made on a radio talk show by Fred Smith, QC, that allegedly encouraged people to revolt against the Christie administration.
He said the Office of the Attorney General was also advising the government on the matter.
Mr Mitchell urged Bahamians to remain calm on issues of immigration and said the government would allow URCA, which governs the airwaves, to probe the incident.
Meanwhile, Mr Smith confirmed to The Tribune that he was a guest on Kreyol Connection with Louby Georges on Guardian Talk Radio on Tuesday night. However, he maintained that none of the comments made on the talk show were inflammatory.
"Last evening several people called me," Mr Mitchell said yesterday, "because they were listening to a radio show this chap, who is of Haitian ancestry, has on the radio.
"On the show the attorney Fred Smith, I gather, was on the show and they claim that there were comments made which they said invited a certain national group in this country to revolt against the government of the country.
"Also they said that immigration officers do not have the powers to arrest or question people who are suspected of being illegal migrants in the country."
Mr Mitchell added: "Bahamians should remain calm in the face of anything of that nature which appears on television or radio.
"Our response to this is going to be since URCA is responsible for content on radio, we will bring it to their attention to ask them to investigate the matter to determine if they have in fact crossed that threshold.
"And secondly that in connection to the powers of immigration officers we are acting in consonance with the law. We have an opinion from the Office of the Attorney General on this matter.
"We will not be proceeding with any matter unless we are in compliance with the law and I assure the Bahamian public we are in full compliance with the law."
Mr Mitchell said Mr Smith does not decide what the laws of the Bahamas are.
In an earlier interview with The Tribune on Tuesday, Mr Smith said he did not see a problem with Bahamians of Haitian descent organising to form political parties. He said The Bahamas was headed in a direction that would soon see this grouping of society emerge as parliamentary leaders.
He urged Bahamians to do away with the stigma that Haitians were inferior.