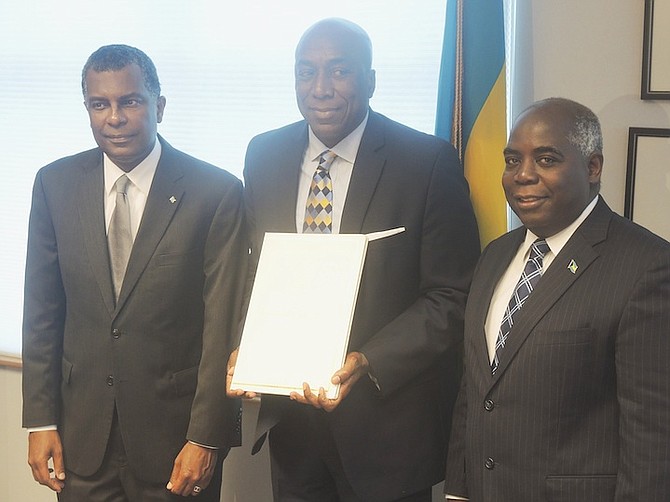 By NICO SCAVELLA
Tribune Staff Reporter
nscavella@tribunemedia.net
GOVERNMENT officials yesterday praised the commissioning of former Bahamian NBA player Lynden Rose as The Bahamas Honorary Consul for the state of Texas.
Deputy Prime Minister Philip "Brave" Davis and Foreign Affairs and Immigration Minister Fred Mitchell praised the new appointee.
Mr Davis, who said he worked for Mr Rose's father, Cecil, as a gas station attendant in his youth, reminisced about the impact Mr (Cecil) Rose had on his growth as an individual.
"Mr (Cecil) Rose was always on my back," he said. "It was a proud day when I was called to the Bar, he was there with me, and he always followed my career. The only sad thing is that neither he nor my father was present to see where I am today," he said. "So welcome to your new official role (Mr Lynden Rose), I know you'll do well and make us all proud."
Striking a more serious tone, however, Mr Mitchell said one of the most important aspects of Mr Rose's appointment as honorary consul is "defending the country's reputation." However, he praised Mr Rose for "acting in this role without his appointment".
"Everywhere you look around, people are just piling it on, speaking about a country they do not know, which is obviously being falsely portrayed," Mr Mitchell said. "So you're the first line of defence in ensuring that our reputation is defended.
"As Minister responsible for establishing diplomatic relations with other countries, I'm really pleased that The Bahamas is able to have a direct presence in Texas, one of the largest states in the US, through our honorary consul Lynden Rose. Just as the honorary consul desk in the state of Texas is important in The Bahamas, there are many Bahamians residing in Houston for education, business, and other purposes.
"Honorary Consul Lynden Rose was not selfish in having accolades heaped upon himself, but searched out opportunities for families, friends and other Bahamians who required his help by seeking scholarships to universities. So in fact he's probably been acting in this role without his appointment."
After accepting his official certification Mr (Lynden) Rose said he was "honoured" to give back to his home country.
"Without the upbringing that I've had, and the friends I made along the way and those individuals who have invested in me, I wouldn't be who I am today," he said. "So I'm happy to give back."
Mr Rose grew up in Coconut Grove, where he delivered The Guardian and The Tribune to various customers in the "Over the Hill" areas of New Providence. 
He attended the University of Houston and played for its basketball team, the Cougars, with future NBA hall of famers Clyde Drexler and Hakeem Olajuwon. He was drafted by the Los Angeles Lakers in 1982.
Currently, Mr Rose is the president of LM Rose Consulting Group, Rose Sports Management, National Education and Sports Solutions, and Texas Organisation of Youth Sports.
He is also one of the founding members of the Bahamian Association of Houston.
According to Mr Mitchell, the Rose family is a "well-known, distinguished family" in The Bahamas, with the late Dr Matthew Rose having previously served as the PLP member of parliament for Saint Barnabas.