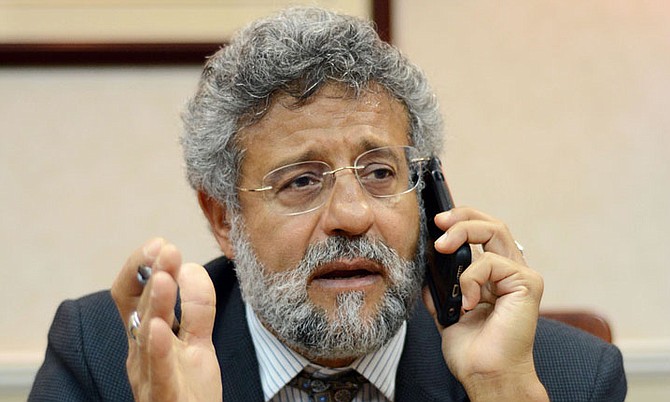 By AVA TURNQUEST
Tribune Chief Reporter
aturnquest@tribunemedia.net
GRAND Bahama Human Rights Association (GBHRA) president Fred Smith yesterday urged immigration officials to temporarily suspend large-scale operations planned for Abaco until the backlog of applicants seeking to be regularised can be reduced.
Mr Smith claimed that Immigration Minister Fred Mitchell's focus was centred on discrediting his organisation rather than addressing grave concerns over the welfare of detainees that have caught the attention of international agencies.
Acknowledging public calls to "tone down" his rhetoric, Mr Smith explained that he was prepared to soften his approach – if there was also an easing of "military-style invasion operations".
"Instead of ranting and raving against me," Mr Smith said, "why didn't Fred Mitchell respond when he had the opportunity to the Organisation of American States, before they had to issue these precautionary measures? When the New York Times reporter was down here conducting interviews, he didn't give her the time of day.
"This is a simple fix: stop the abuse at home and we will stop the criticism abroad. We love The Bahamas as much as Mr Mitchell does, but we also need to reach out to whoever will help us protect human rights at home.
"We urge Minister Mitchell to focus his resources on dealing with the thousands and thousands of applications at the Immigration Department. Spend the money fixing the problem internally, stop corruption in the Immigration department, stop grandstanding with threats to Abaco and other communities."
Mr Smith was reacting to comments made by Mr Mitchell in the House of Assembly this week. Mr Mitchell had vowed that the government will use every resource to fight any smear campaign against the country.
He said the continued criticism from the GBHRA lacked credibility and painted the country in a negative light.
Mr Mitchell added that the heads of all law enforcement agencies in The Bahamas were meeting to discuss strategies to tackle illegal migration in Abaco, and decide on timing and logistics for a widespread operation.
"We urge Mr Mitchell to pause and stop threatening communities in the Out Islands as he is doing in Abaco," Mr Smith said yesterday.
"He has already said that the Immigration department has exhausted their repatriation budget so there is no more funding for repatriations.
"He is aware that the detention centre was built for 100 people and now has over 500 to 700 people that are still being processed and/or proposed for deportation, and he is aware also that the conditions at the centre are unsanitary, overcrowded and in fact the subject of international scrutiny."
Last week, the OAS' Inter-American Commission on Human Rights' (IACHR) issued precautionary measures for immediate action to ensure the life and physical integrity of persons held in immigration detention at the Carmichael Road facility. Citing numerous risks due to alleged inhumane conditions of their detention, the measures were issued on February 13 after analysing "factual and legal" arguments submitted in applications from three international human rights groups.
The IACHR report indicated that the government had not responded to its request for information sent on January 15 to date.
In the government's response to the IACHR's report – which it labelled "overstated and inaccurate" – it was revealed that a report commissioned by a panel headed by a former Justice of The Bahamas Court of Appeal about the conditions at the Detention Centre has been completed, and the government is addressing recommendations within the Immigration Department's resources.
Yesterday, Mr Smith said: "Many have asked me to tone down my rhetoric to avoid escalating a highly volatile situation, I am prepared to do so, but I also urge the minister to back off and act reasonably.
"There is no need for raids in the Out Islands or exercises which appear to be military-style invasion operations in the Family Islands with combined police, immigration, defence force and customs officers. Nassau is not at war with the Family Islands and that is the image he is conveying. The immigration department throughout The Bahamas can continue to methodically investigate and do its job without this kind of uproar."
Mr Smith claimed that the GBHRA's concerns did not exist in a vacuum, adding that the organisation did not seek to destroy the reputation of The Bahamas nationally or internationally.
However, he noted that the country had international obligations through partnerships with agencies such as the World Bank, United Nations or Inter-American Development Bank.
He explained that his organisation's motives were no different from Mr Mitchell's when he protested against the government as an activist in his early political years.
Mr Smith added that Mr Mitchell's actions have set the country on a course to repeat history, referring to the GBHRA's first trip to the OAS to protest immigration practices under former minister Loftus Roker.