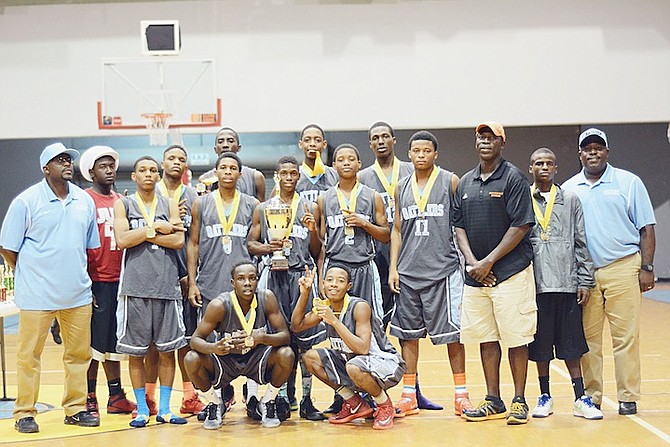 By BRENT STUBBS
Senior Sports Reporter
bstubbs@tribunemedia.net
The CI Gibson Rattlers closed out 2015 by repeating as the champions of their own Providence Basketball Club's Holiday Classic for senior boys by holding off the CC Sweeting Cobras at the Kendal Isaacs Gymnasium on Tuesday night.
In a rematch of the showdown between the two snakes, the Rattlers' bite was more deadly than the Cobras as CI Gibson prevailed with a 76-74 decision in overtime over CC Sweeting.
The Rattlers, coached by Kevin 'KJ' Johnson, earned their berth into the final by dismantling the visiting St George's Jaguars, while the Cobras, coached by Mario Bowleg, won 55-51 to outlast the surprising Teleos Academy Cherubims, coached by Pastor Dave Adams.
Just before the championship game, the Jaguars, coached by Darrel Sears, pulled off a hard fought 49-41 decision over the Cherubims to carry the third place consolation trophy back to Grand Bahama.
• Here's a summary of the games played at the end of the four day tournament that featured a total of 19 teams from New Providence, Grand Bahama, Eleuthera and Abaco.
Championship game
Rattlers 76, Cobras 74
FOR bragging rights going into the marquee events in 2015 in the Government Secondary Schools Sports Association's championship and the prestigious Hugh Campbell Basketball Classic, CI Gibson exploded behind the eight points from Shakwon Lewis in the extra four minutes as they outscored CC Sweeting 13-11. The game was tied 63-63 at the end of regulation.
"It feels good. It feels good. We played a very good CC Sweeting team, well-coached team," said CI Gibson's coach Mario Bowleg. "I know we will see them again in the GSSSA and down the road in the Hugh Campbell because they are well-coached."
With the game on the line, coach Bowleg said he was confident with the ball in the hands of Lewis, and his Rattlers had a very good chance of winning the game.
"I needed somebody to take over and really put their stamp on the game because I told them we were going back and forth and we needed to score baskets," Johnson said. "He took over, got some key steals and scored some baskets for us."
Johnson said Lewis and the rest of his team-mates were riding the momentum they got from their recent trip to Las Vegas where they played against some players who have already signed to play for NCAA Division 1 schools.
"It feels good that we were able to compete against CC Sweeting and get the win," Johnson said.
Lewis, the overall tournament most valuable player, finished with a game high 29 points. But there were spurts when the Rattlers needed an injection and championship MVP Michel Sweeting was the potent weapon as he ended up with 27. Ira Farrington and Adderley St Dick were their next best scorers as they added seven each.
CC Sweeting, however, found themselves in trouble from the last five minutes of the fourth quarter as their top players started fouling out one by one, which left them wounded going into the extra period.
"The team performance was pretty good. We were undermanned with four players who fouled out of the game," said Cobras' assistant coach Derek Cummings. "We also had some injured players, so we were asking a lot out of some players who we really didn't expect to play that much.
"Hats off to CI. They did a pretty good job taking advantage of us. Our performance was partially good. This is only going to motivate us because it will come down to the two snakes. So I don't want anybody else to think otherwise. It's going to be between CC and CI all year."
Ken Mullings had 22 points, both Selvester Moss and Delmar Hamilton had 13 apiece, Alex Seymour 12 and Jamal Simon chipped in with eight.
The Cobras took a quick 11-0 lead and held on for a 25-14 margin at the end of the first quarter. However, the Rattlers rebounded to take a slim 34-33 advantage at the half.
After leading 47-46 at the end of the third, although they were missing some key weapons, CC Sweeting took a 63-61 lead with 29.2 seconds left in the fourth on a tip in from Corey Sands, only to watch as Michael Sweeting got an offensive rebound and put back to tie the score with 19.6 on the clock.
After the Cobras blew a chance to win it in regulation as time expired, Lewis went to work, scoring the first two baskets to put the Rattlers up 67-63. After the game was tied again at 69, Lewis came through with a pair of free throws and a lay-up for a 75-70 lead as they held on for the win.
Consolation game
Jaguars 49, Cherubims 41
AFTER missing out on the opportunity to play for all the marbles, St George's made sure that the title of the third best team was in their possession.
After falling behind 11-0 to Teleos Academy, St George's played like a team on a mission as they trimmed the deficit to 13-12 at the end of the first quarter. By the time they took the lead in the second quarter, they never relinquished it as they finished off strong for third place.
"We came here to get better and we did," said St George's coach Darrell Sears. "From the first game to this game, we have really stepped it up and we now have a lot of confidence going back to Grand Bahama to finish our season.
"We wanted to go to the championship, but it was difficult having to play two tough teams like Agape and CI Gibson back-to-back. But we wanted to go back with something positive and we did that. We learn from each other and we learn from each other."
Sears said despite falling short of their ultimate goal, they are excited to get the experience and they hope to return for the Hugh Campbell Basketball Tournament in February and turn things around.
Franklyn Petion led the attack for the Jaguars with a game high 25 points and Glenroy Rolle added eight. Bertrum Minns scored 15 and Deangelo Murray had 14 in the loss for the Cherubims.
Semifinal game one
Rattlers 75, Jaguars 69
In what turned out to be the most competitive game of the tournament and what could have easily been a championship showdown, CI Gibson got the better of the deal to advance to the final. Shakwon Lewis had another game high 28 points and Michael Sweeting came up with 21 in the win for CI Gibson. Frankliyn Petion had 24 and Shakeel Butters chipped in with 15 for St George's.
Semifinal game two
Cobras 55, Cherubims 51
Not only were they the surprise of the final four but Teleos Academy came close to pulling off the biggest upset. However, CC Sweeting made sure that they were not the victims. Delmar Hamilton led a balanced scoring attack with 15 points, Jamal Simon had 11, Derontae Brown 10 and Ken Mullings seven in the win for CC Sweeting. Bertrum Minns scored a game high 19 and Deangelo Murray added 12 in the loss for Teleos Academy.
Pool One championship game
Rattlers 97, Diplomats 80
Shakwon Lewis exploded for a game high 26 points and Ira Farrington and Michael Sweeting came up with 19 apiece to lead CI Gibson to victory. Rashad Stubbs and Jermaine Bethel scored 24 and 21 points respectively in the loss for Westminster.
Pool Two championship game
Cherubims 77, Comets 76
Deangelo Murray and Kenneth Johnson had 19 points each, Gregory Seymour 14 and Bertum Minns 10 as Teleos Academy produced their best game of the tournament to stay alive. Rumalo Ellis had 14 and Julius Nottage 12, but it wasn't enough for Queen's College, coached by Dwayne Smith, as they got nipped out at the end in playing in the final four.
Pool Three championship game
Jaguars 45, Eagles 39
Franklyn Petion scored 20 points and Kyle Smith added eight in the win for St George's in a battle of two visiting teams. Agape got a game high 22 points from Venson Ferguson and nine from Malik Penn as Abaco's youthful bunch, coached by Wayde Adderley, missed out on extending their participation in the tournament.
Pool Four championship game
Cobras 62, Timberwolves 50
Ken Mullings and Jamal Simon had 19 and 13 respectively as CC Sweeting booked their berth into the semi-finals. Anatol Rodgers and coach Harcourt McCoy, who continued to improve on their dismal showing last year, got a game high 26 points from Dominic Bridgewater and Levonne Moxey added nine.