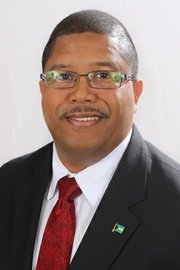 By RASHAD ROLLE
Tribune Staff Reporter
rrolle@tribunemedia.net
FREE National Movement (FNM) Deputy Leader Peter Turnquest expressed disappointment yesterday over the fact that Prime Minister Perry Christie did not formally address the public ahead of the January 1 roll out of Value Added Tax (VAT).
"With the Prime Minister and the State Minister of Finance, I think it's disappointing they did not see it fit to address the country on its readiness with respect to VAT prior to the implementation on January 1st. I think it would have been important because there are lingering questions. Certainly by all accounts, the business community and the people of the Bahamas are at large not ready for VAT."
State Minister for Finance Michael Halkitis told The Tribune on Thursday that the roll out of VAT had been smooth, although he acknowledged that a system glitch at Super Value and confusion within the petroleum industry meant that VAT wasn't charged at these institutions.
An investigation was expected to be launched into the issues affecting the petroleum industry while VAT was charged on items at Super Value yesterday.
Still, Mr Turnquest said: "When it comes to the offshore industry in particular, who is required to register? There is also the question about VAT inclusive pricing verses VAT exclusive pricing, something that offers major stumbling blocks to business with high volume. There is also tremendous debate about how VAT is supposed to be applied. I was listening to two small business men talking about it the other day and both were way off base."
Bahamas Public Service Union (BPSU) president John Pinder also raised concerns about elements of the VAT roll-out yesterday, especially as it relates to overpricing and receipt provision.
"Most of the complaints that have been reaching me indicate that a lot of merchants had already raised the price throughout the holiday season," he said. "Even though no VAT was applied, they inflated the price in a lot of stores."

He added: "People also need to hold on to their receipts. They don't understand how this rebate thing is going to work. And I have heard about a lot of strange things happening at shops.
"Ink running out on the tape, for instance, so that you could hardly see the numbers and can't produce a legitimate receipt when its time to get money back. The government needs to ensure that as far as the receipts given to those purchasing supplies who may stand a chance of getting funds back at the end of the day is concerned, receipts that people could actually produce need to be provided."
Both Mr Turnquest and Mr Pinder said they hope the government's VAT education programme will continue.
"There's going to be need for continuing education for both the business community and the public," Mr Turnquest said. "That policy should not end despite the implementation date because by all accounts there is still a lot of work to be done. I urge the government to have a quarter to six months of leniency as business people get used to the idea and the application of this Value Added Tax and as the consumer public becomes aware of their rights in terms of who should be charging and what they should be charged on.
"There were tremendous threats leading up to the implementation date. I hope it was just bluster from the government because there will be a number of business people who want to know if they are supposed to register given the confusing nature of the guidance notes. People will need a bit of hand holding at least for three to six months."
Mr Pinder said: "I'm just hoping that the educational programme would continue."