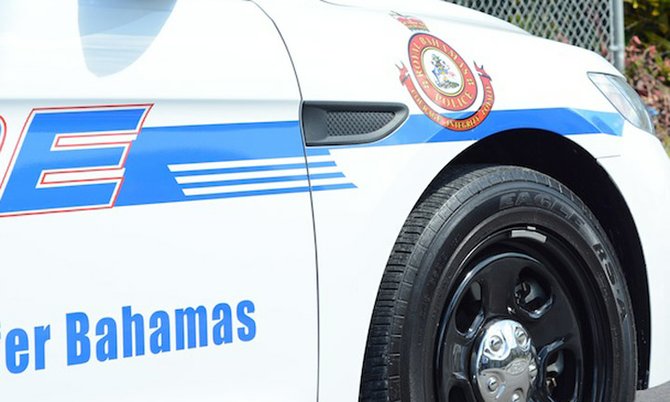 By RASHAD ROLLE
Tribune Staff Reporter
rrolle@tribunemedia.net
A 29-year-old police constable is recovering in hospital after being shot in the back of his head in Nassau Village yesterday.
At Doctors Hospital last night, Acting Deputy Police Commissioner Anthony Ferguson said the off-duty detective had been driving on Alexandria Boulevard around 3:20pm when two men in a black vehicle pulled up behind him and opened fire on him, resulting in the officer being shot in the back of his head.
Police officers in the area came to his assistance, as did EMS personnel, who took him to hospital where he was rushed into surgery.
"I had the chance to speak with the officer prior to him going into surgery and I am encouraged.," Mr Ferguson said. "I want to appeal to members of the public who witnessed this incident to provide the police with information concerning the persons who are responsible."
Dr Magnus Ekedede, the lead surgeon who operated on the officer, admitted that he was worried about whether the officer would survive because the bullet was lodged in a delicate spot in the back of his head.
He credited the quick reaction of the police and EMS personnel in bringing the victim to the hospital that would help ensure his survival.
"I would say that he was brought to the hospital so quickly that the catastrophic injury that would have happened never happened," he said. "I think he did very well after the surgery. Everybody that was involved, that was a quick transport from where the problem happened to the hospital.
"From a survival point of view, I was able to extract the bullet and was able to stop the bleeding at the back of his head and I think he's going to be fine. As a matter of fact, I was able to talk to him before we came and he's quite conscious. He's going to be in the ICU for a day or two to watch him to make sure he doesn't develop any complications and then we will continue to treat him. I expect him to make a full recovery in a week or so, but tomorrow he should be in better condition than today. But I am encouraged because he's awake and understands everything and he's moving everything."
Mr Ferguson said it is too early to say why the officer was attacked.
The officer's shooting comes over a month after another policeman, Sgt Wayne Rolle, was shot in his head and killed while sitting in his jeep with a female friend at Durham Street, off Montrose Avenue. He was off duty at the time.
Mr Ferguson said he doesn't believe police are under attack.
"We don't think this is an attack on police officers," he said. "There's always concern with all human beings who are injured, but the public and the police department need not go in any frenzy. We believe that we have this matter under control and we want to assure the public that we are on top of this investigation."