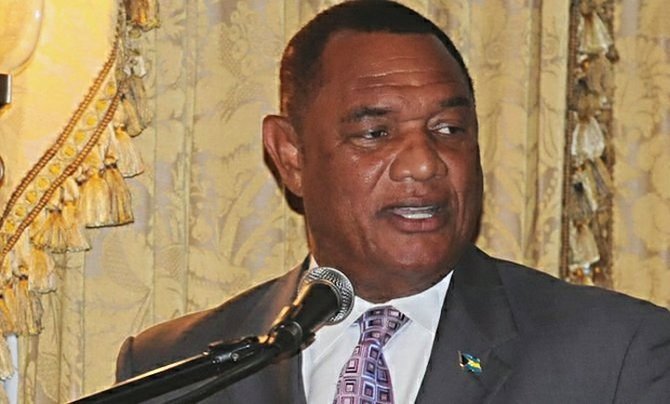 By TANEKA THOMPSON
Tribune News Editor
tmthompson@tribunemedia.net
MORE than two years after coming into office with the campaign promise to reduce violent crime, Prime Minister Perry Christie has said it may have been "unwise" for him to "blame" the Free National Movement for the country's crime problem while in opposition.
He also appeared to express some dissatisfaction with the Royal Bahamas Police Force, saying Commissioner of Police Ellison Greenslade and his team must understand the "stake" politicians have in crime reduction.
Mr Christie's comments came in the first part of a pre-taped interview with State of Affairs, which was broadcast on ZNS on Monday night.
This also comes after 122 murders were recorded in 2014 and three people were killed in the first weekend of the New Year.
Mr Christie said his government is focused on new crime fighting strategies, however, he said he could not speak about some of them in detail.
"But I'll tell you this, I really hope that the commissioner of police and his colleagues come to understand that the political directorate has a stake in what is taking place. That, just as I blamed the FNM and maybe unwisely, but as I blamed them, I take it that I have an obligation to the Bahamian people to provide a solution (to crime) because I advocated it."
In January 2014, Mr Christie said he would not have his legacy "tied to a total reliance on the Royal Bahamas Police Force and the leadership of that force."
At the time, then-FNM Chairman Darron Cash described this as the prime minister throwing Mr Greenslade "under the bus."
In Monday's broadcast, Mr Christie said his government has given the police force equipment and technology to aid the crime fight.
"I have given police officers, as the minister of finance, over 200 new officers since we came into power. We have classes in existence I think to that amount. I want to ensure that we do not fail in being able to smother the crime and criminal activity because we don't have sufficient men."
When asked earlier about the crime problem, Mr Christie said murders in New Providence and offenders getting bail continue to challenge his administration.
". . .Even though one can argue that we have improvement in crime statistics, in terms of killings it is just a horrible kind of existence out there," he said.
"We know, for example, that a lot of it is done by people who have been let out on bail and we do know the constitutional requirements to have people tried in a period of three years.
"The numbers have grown so high that. . .my government decided, and it should be implemented this month, to put 10 courts into existence at the same time. (We have also amended) the laws for jury selection to enable jurors to come from the (Family) Islands, to put the judicial system in a position where it can remain current with criminals and crime, and charging people and having trials done."
He also said his administration will be more "aggressive" in integrating Urban Renewal 2.0 in the crime fight.
He said his government is considering taking young men, who have problems getting a job, involved in something similar to a voluntary national service as a means to get them off the street.
On the controversial National Intelligence Agency, he said legislation will be presented in the House of Assembly this month to legalise the entity.