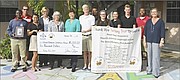 THE annual Lucaya International School (LIS) Turkey Trot for the Grand Bahama Children's Home raised $6,000.
This year's donation from 4th annual event was the largest to date.
Former LIS teacher, Lee Rawlinson, started the Turkey Trot four years ago as a fundraiser for the home. Having moved on to Germany, he left the race in the capable hands of his fellow teachers, Cath Hindley and Nigel Kirkby.
This year's event was held Saturday, December 6, at Banana Bay and raised $1,500 more than the previous year.
"We are so very grateful for this generous donation which is much needed - particularly at this time," said Lesley Baptista of the GBCH Executive Committee. "The time and energy the students, teachers and parents put into this event is fantastic and it is particularly inspiring when you see concerned students leading the way to help our children. A huge thank you to the LIS community for this donation and the way you remember and help our children year after year."
The event was organised by teachers Hindley and Kirkby with the Year 13 students.
"LIS is proud to continue to support this worthy project, which benefits the children at the Home," said Sharon Wilson, LIS Headmistress. "Many thanks also go to our community; the teachers, students, parents and friends of LIS, as well as the generous sponsors who make the Turkey Trot possible. We are also proud of what it teaches our students – the importance of giving back."