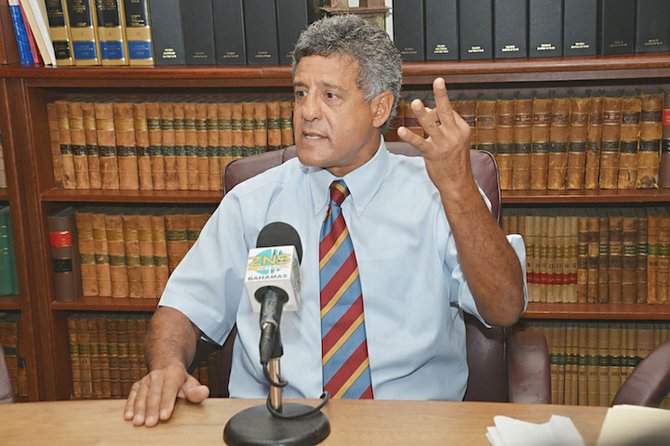 LAWYER Fred Smith, QC, plans to file a $100,000 lawsuit against the government claiming illegal arrest, false detention and "abuse" of a man born in the Bahamas of Haitian descent.
Mr Smith said the man, Noille Joseph, was "illegally arrested" on November 19, 2014 but was not released by immigration officials until more than a month later, on January 15.
Last week, Florida State Representative Daphne Campbell said she filed a formal complaint with the Department of Immigration against a senior immigration officer over the alleged unlawful detention of two men who were arrested last year by immigration officials. Mr Joseph was one of those men.
"I congratulate Representative Daphne Campbell from Florida for continuing her valiant efforts on behalf of the Haitian Bahamian community in the Bahamas," Mr Smith said. "Her complaint about the illegal arrest and detention of Noille Joseph," said Mr Smith must have "struck a note of fear and terror in (Minister of Immigration) Fred Mitchell's heart resulting in Noille's release."
He said he will file a lawsuit on behalf of Mr Joseph, who he said was born in this country. Mr Smith said he will seek at least $100,000 in redress for the government's alleged "illegal and barbaric behaviour."
He charged that Mr Joseph was held at the Carmichael Road Detention Centre in "inhumane and degrading conditions" until his release a few days ago.
When contacted for comment yesterday Mr Mitchell said both Ms Campbell and Mr Smith were "fools."
He would not speak specifically to Mr Joseph's circumstances or confirm if he was held for more than a month, saying: "People who believe that their rights have been adversely affected have a right (to seek redress) in the Bahamian courts."
Mr Smith said the government will "pay" for the incident.
"It's time the government of the Bahamas learnt to respect rights," Mr Smith said. "Haitians have rights too. So do Bahamians of Haitian descent. They are not dogs in the Bahamas. I urge everyone who has and is being abused by Immigration to find a lawyer and sue. There are 2,000 hungry lawyers in the Bahamas."
"If every Haitian or Bahamian of Haitian descent who has been illegally arrested or detained under this new policy (sues the government), the Bahamian treasury would be bankrupt."
He referred to a Japanese man, Atain Takitota, who was awarded more than $1 million in damages by the court after being wrongfully imprisoned for years in the Bahamas.
"Our government cannot sustain thousands of actions for damages for people arrested illegally and having their constitutional rights abused. I urged Damian Gomez, QC, who did the Takitota case to persuade his Cabinet colleagues to stop the madness," Mr Smith said.

In her letter dated January 8 to Director of Immigration William Pratt, Ms Campbell claims that even though the two men had provided original legal documents of their identity and Bahamian nationality, the officer in charge refused to release them.
One of the men, Albury Wallace who was arrested in Fresh Creek, Andros, in August, was deported to Haiti in December, Ms Campbell said. She said Mr Wallace is the son of two Bahamian citizens. His father is Vince Wallace, a Bahamian by birth, and his mother is Lovana Charles-Wallace, who is a naturalised Bahamian citizen. Ms Campbell said he spent the last five months incarcerated for no reason.
According to Ms Campbell, Mr Joseph was born in Freeport at the Rand Memorial Hospital on January 22, 1983 to Haitian parents.