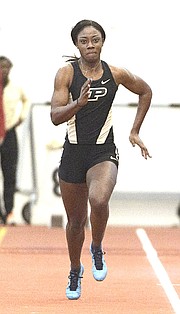 By BRENT STUBBS
Senior Sports Reporter
bstubbs@tribunemedia.net
WHILE Carmiesha Cox showed her fitness level as she took her rightful place with fellow Bahamian Devynne Charlton at Purdue University as the Boilermakers continued their indoor regular season on Saturday, Tamara Myers was turning heads once again for the University of Arkansas.
Competing at the Indiana/Purdue Dual meet at the Gladstein Fieldhouse in Indiana on Saturday, Cox shattered the school record in the women's 200 metres that was held by Charlton when she won the race in 24.09 seconds. "I felt really good. I'm just excited to be back on the track," said Cox in an interview with The Tribune as she made her return this year after missing out on her freshman season with an injury.
Cox's winning time now ranks her 16th overall in the United States and second in the Big Ten Conference.
On breaking the record, Cox said if anyone is excited about the achievement, "it's me. I'm just happy that I did it so early up in the season and now I can prepare for the rest of the season. I just hope that I can go out there and run a PR (personal record) every time I compete.
"We have our conference meet in a month's time, so it gives me a lot to look forward to. Indoors is very quick, so it's important to get in a lot of work up front so that you are better prepared by the time the season gets set to wind down."
As she's now injury free, Cox said the sky is the limit for her this year.
Charlton, coming off her hat trick with her triple victories in the 60m, 200m and 60m hurdles at the 20th annual Gene Edmonds Invitational last weekend at their home site at Lambert Fieldhouse where Cox was third in the 60m and second in the 200m, didn't compete in the 200m over the weekend.
Instead, she opted to concentrate on the 60m and the 60m hurdles where she ran two meet record-breaking performances.
In the 60m, Charlton ran 7.55 for the victory to erase the meet record previously held by Twyla Winfrey in 7.62. If that wasn't enough, she also lowered her meet record of 8.50 in the 60m hurdles by running 8.38.
The Boilermakers will be back in action this week when they compete in the Notre Dame Invite and the two 19-year-old sophomores are expected to make their presence felt again.
Meanwhile at the Arkansas vs Texas dual meet in Fayetteville, Arkansas, Tamara Myers had a double dose of victory for the Razorbacks.
The native of North Andros won the women's long jump with a leap of 6.12 metres or 20-feet, 1-inch and she also took the triple jump with 13.12m or 43-1/2. The Razorbacks will be back in action this weekend at the Nutter Field House in Lexington, Kentucky.