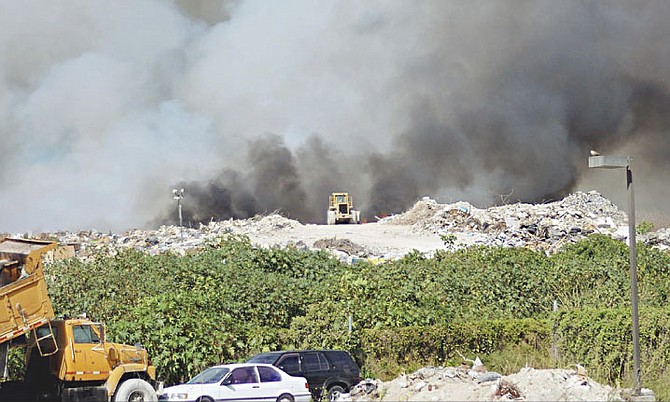 By NICO SCAVELLA
Tribune Staff Reporter
nscavella@tribunemedia.net
A FIRE that started over the weekend at the New Providence Landfill was caused by a "concentrated arson attack on the site and facilities," according to officials from Renew Bahamas.
In a statement released yesterday, Renew Bahamas, the solid waste management company responsible for operating and managing the landfill, said its "sources and surveillance" indicated that individuals "entered the landfill after sunset (on Saturday) and deliberately started the fire."
The company said residents in the surrounding community may experience "discomfort" over the "next several days" as officials continued to battle the blaze that continued to rage up to press time.
The company's statement comes after two fires on the northern and southwestern areas of the property were reportedly sparked at the landfill shortly before 11pm Saturday. As a result, persons living in the immediate Gladstone Road area and some in nearby Flamingo Gardens could see and smell the effects of the blaze.
Fire Chief Superintendent Walter Evans, when contacted yesterday, urged persons living near the landfill, such as residents of Gladstone Road and Victoria Gardens, to "seek medical attention" if experiencing ill side effects from the smoke emanating from the site.
Renew Bahamas said the company is actively monitoring a "large surface fire presently burning at the Harrold Road landfill."
"The fire was started shortly before 11 pm Saturday, on the northern side of the property and within an hour it was rapidly spreading," the company's statement read. "Shortly after, another fire started up in a completely separate part of the site. We are satisfied that this second fire is not spreading.
"We believe this latest incident indicates a concentrated arson attack on the site and facilities, as our sources and surveillance indicate individuals entered the landfill after sunset and deliberately started the fire. Work crews were immediately mobilised to combat the blaze. Meantime residents in the surrounding community can expect some discomfort over the next several days from the smoke, as wind continues to pose a challenge."
Supt Evans said the fire department was working with Renew Bahamas to combat the fire.
"The residents in the Victoria Gardens and Gladstone Road communities, all those persons may feel some effect, so we do encourage persons who are in that area to seek medical attention if they have any health issues as a result of the smoke which is being emanated from that site," he said.
A resident looking from her balcony at the Towers on Cable Beach said that from where she stood it "appears to be a terrible inferno."
Fires at the city dump have been a persistent problem for years.
Last March, a fire burned at the dump for several weeks, causing school closures and discomfort for nearby residents.