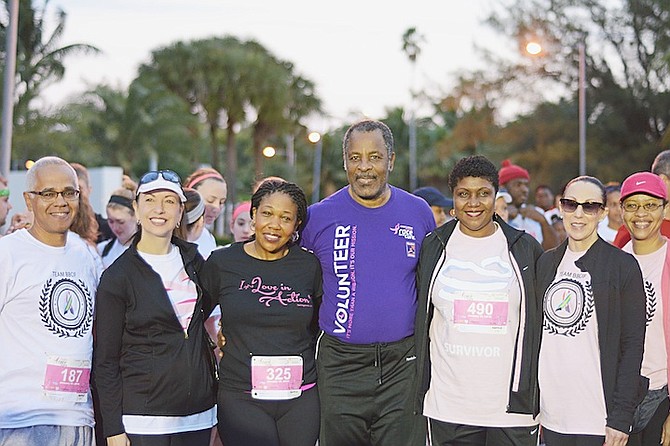 Franklyn Wilson, the Sunshine Holdings and Arawak Homes chairman, said the Sunshine Insurance weekend serves a number of purposes in economic and community building.
"I want all persons hearing this to understand there's a strategy behind what we're doing. The running media is beginning to pick up a feel of 'come for the race and stay for the party.' This experience is more than a race. We believe if people come to the Bahamas based beyond any single activity then we are on the right track," he said. "The big point is that we have to continue to produce events at a high level. We want every year for someone to say 'this is the best one yet.' This marathon is about building community, health and a benefit to sports tourism."
Saturday morning featured the The Susan G Komen Bahamas Race for the Cure 5K. Thousands of runners and walkers took to the route which began at Montagu Beach and finished at the Atlantis Resort on Paradise Island. Sunshine Insurance (Agents & Brokers) Ltd, with MARSH, its international affiliate, in its role as the lead sponsor and organiser for Marathon Bahamas, has fostered a strategic partnership between Marathon Bahamas and Susan G Komen for the Cure, the global leader of the breast cancer movement and the world's largest grassroots network of breast cancer survivors and activists - a partnership that could significantly impact the health of Bahamians, especially in the areas of breast cancer and other women's health issues.
It is an annual event, not only to raise money for the beneficiaries but also to bring attention to the dreaded disease that affect so many of our Bahamian women.
One hundred per cent of the money raised by the Race for the Cure will remain in The Bahamas to fund breast cancer research/awareness and women's health programmes.