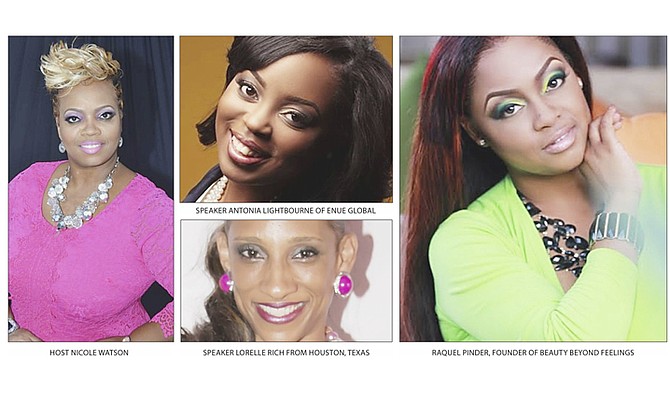 By ALESHA CADET
Tribune Features Reporter
acadet@tribunemedia.net
FOR THE second time around, Styles By Kelly P will present it's annual women's empowerment summit entitled "Beauty Beyond Feelings".
Under the theme, "Stepping Into Your Truth", the event will take place on Saturday, January 31 at Holy Trinity, Stapleton Gardens.
Hosted by Nicole Watson, Beauty Beyond Feelings will also feature speakers Lorelle Rich visiting from Houston, Texas; Antonia Lightbourne of Enue Global, and the event's founder and conference speaker, Raquel Pinder.
As the owner of her very own hairstyling company called Styles By Kelly P, Raquel uses her platform to host the event with hopes of inspiring, uplifting and motivating women to be beautiful beyond their feelings.
The 27-year-old is also a praise and worship leader at the Pentecostal Church of Faith in God. She enjoys singing, writing poetry and is very passionate about ministry and women's empowerment.
Next Saturday, Raquel said women will come together to share their testimonies in an effort to bring about positive change.
"We are all about empowering women to allow the beauty that is within them – joy, love, peace and positive attitude – to shine through adversity. We will be discussing the inner being of a woman, embracing the truth about who we are and targeting those areas in our lives that we cover up so well; the truth behind our mask," she said.
Since launching the event last year, Raquel said she has received positive feedback from women demanding that they host another event. She said word got around that the first event was a major success and the women in attendance allowed themselves to let go of the things that kept them in bondage.
"Women need as much empowerment as they can get, and until we realise certain issues we have, we can never address them and become better. It's time for a change and that's why this movement is so relevant to today's society," Raquel said.
"While studying cosmetology in Cleveland, Ohio in 2012, I got the vision to host an event for women, but it was not until November 2013 that I started to execute the vision. My past hurts and overcoming adversities encouraged me to share my testimony and allowed me to help other women going through the same thing I went through."
For Raquel, Beauty Beyond Feelings is important because there are so many women who are going through so much and don't have an outlet for all the emotions they often hold in.
"Some of us have lost homes, going through a divorce, uncomfortable in our singleness and lost our kids and jobs. Some of us are up to our necks with bills and have allowed how we feel about these situations to dictate how we act. This movement is that positive change for the Bahamas. We are all about giving back," said Raquel.
Last October, the organisation was able to donate funds to the Cancer Society of the Bahamas, and this year they plan to team up with other organisations to help bring about change in the country.
As concerns the hoped for outcome of the upcoming event, Raquel said she wants every woman to leave the summit fully empowered knowing that her mind is in a better place and her heart is no longer heavy.
"I'm looking forward to the ladies opening up and hearing their testimonies of how they plan to overcome from these emotions," she said. "I am excited to hear what each speaker has to say because I believe this event is going to be awesome. I am also excited to see the smiles on their faces when they see the surprises we have in store for them at the event."
Raquel said she sees Beauty Beyond Feelings as a local and global movement. In addition to the summit in Nassau, she hopes to take the initiative to the Family Islands as well as to Cleveland, Ohio.