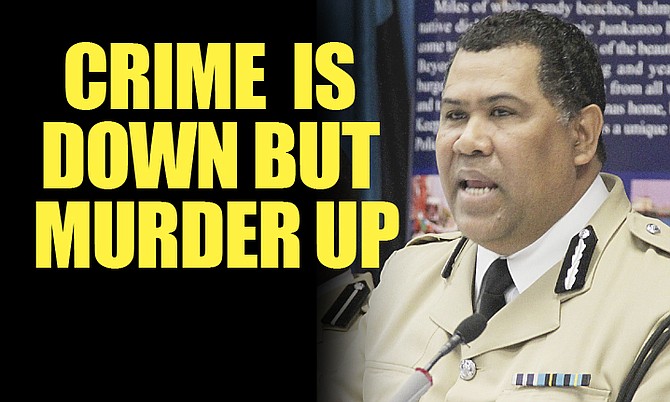 By SANCHESKA BROWN
Tribune Staff Reporter
sbrown@tribunemedia.net
DESPITE a three per cent increase in murder last year, Police Commissioner Ellison Greenslade said yesterday that serious crimes in the Bahamas decreased by 18 per cent in 2014 compared to 2013.
According to police statistics, released by Mr Greenslade, the decrease in serious crimes was influenced by decreases in manslaughter, rape, attempted rape, unlawful sexual intercourse, armed robbery and robbery, which all decreased by 25 per cent, 29 per cent, 45 per cent, 33 per cent, 10 per cent and 4 per cent respectively.
The commissioner said despite the best efforts of the police, the Bahamas still recorded 123 murders, an increase of 3 per cent over the figure of 119 that was recorded in 2013.
He blamed prolific offenders for the high murder rate.
"This is a troubling reality which has generated significant fear and cause for concern across the communities of the Bahamas," he said at a press conference at police headquarters.
"We have noted that a hardcore group of prolific offenders are one of the main reasons for the high murder rate. These prolific offenders are known to reoffend upon being released from prison and return to communities, after being charged with serious criminal offences, including murder and cause serious harm to people," Mr Greenslade said.
The commissioner said 65 persons were arrested and charged with murders committed in 2014 – a detection rate of 43 per cent.
However, he said a number of cases are currently being reviewed by detectives at the Central Detective Unit and further charges are expected to be brought against several persons who are being sought by police. He also said the detection rate is low because in some cases, the public is "not helpful".
According to the police figures, attempted murder rose 47 per cent, from 15 cases in 2013 to 22 cases in 2014. The category of attempted robbery also saw an increase of three per cent, from 30 cases in 2013 to 31 in 2014.
Of the 123 murders recorded last year, 88 per cent or 108 were recorded in New Providence, 10 in Grand Bahama and five in the Family Islands.
A handgun was used in 85 per cent of the murder cases, followed by knives, which were used in 7 per cent of homicides.
Eighty-three murders, or 67 per cent, occurred on the streets and 15 per cent in a home.
Fifty-eight murders occurred between the hours of 4pm and 12 midnight followed by 33 murders, which occurred between midnight and 8am. Most murders were committed on Sundays, 27 per cent, followed by Wednesday with 19 per cent.
Of the murder victims last year, 16 were killed in May; 14 in April; 13 in August and December; 11 in January, March, October and November; eight in February; seven in July; and four in June and September.
Retaliation was the main motive for murder in 2014 with 44 cases, followed by conflicts between individuals, 17, robbery 13, and drugs, 12.
The statistics also show that crimes against property decreased overall by 20 per cent.
Mr Greenslade said this was influenced by decreases in burglary, housebreaking, shopbreaking, stealing, stealing from vehicle and stolen vehicle categories which all showed decreases of 32 per cent, 22 per cent, 14 per cent, 20 per cent, 16 per cent and 24 per cent respectively.
The commissioner said he intends to retain the same policing plan in 2015 as the 2014 plan yielded "great results".
However, he will "tweak" the plan in certain areas to combat murder, which continues to challenge police.