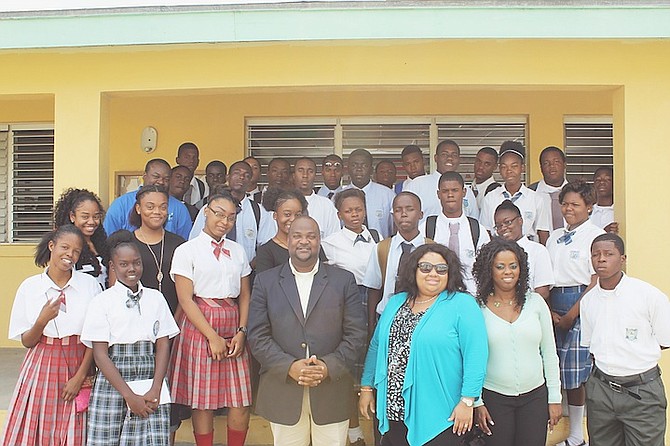 By RICARDO WELLS
Tribune Staff Reporter
rwells@tribunemedia.net
EXECUTIVES from the Youth Empowerment Programme announced plans to expand their youth initiative to Eleuthera in the coming months.
YEP President and CEO Delano Munroe said that the organisation has been working to extend the programme throughout the Bahamas in an effort to "touch as many lives as possible".
A delegation of Youth Empowerment Executives (YEP), district managers, mentors and students travelled from New Providence to Eleuthera last week to introduce and launch the programme to residents and community stakeholders in Central and South Eleuthera.
The YEP visit to Eleuthera was a joint project sanctioned and supported by the Ministries of Education, Youth, and Local Government.
Mr Munroe said: "One of the core objectives in the Youth Empowerment Programme is to give all young persons in the Bahamas the option to freely participate in a structured, wholesome, holistic, life skills development youth programme."
He added: "Another goal we have in the Youth Empowerment Programme is to have a presence in each of our Family Islands. Again, we want to ensure that every young person has the opportunity to benefit from what YEP has to offer.
"Key stakeholders were identified from South and Central Eleuthera to manage the programme in the interim. During the pilot stage of the programme, scheduled over the next four months, projects and student exchanges will be made available at both high schools in Eleuthera to determine the ideal model that will work best for the island."
He added: "Continuous meetings, resources and dialogue will be ongoing to ensure the longevity and sustainability of YEP Bahamas in Eleuthera."
He said the group wants to give young people on that island alternatives and access to a "wholesome" youth initiative.
"In particular, we hope to engage those unattached, marginalised and at risk young people as well in Eleuthera in addition to those high flyers students."
The principal of Central Eleuthera High School, Marie Galanis, welcomed the programme to the island and indicated that she was looking forward to working with the group to aid in the development of her students.
She said: "It will be a great youth programme, one that positively engages our students who are looking forward to participating in activities that YEP offers".
Mr Munroe said that within the next two years, YEP organisers hope to have chapters in every Family Island.
Mr Munroe added: "Bimini, Berry Islands, Andros and Abaco will be launched by September 2015."
According to Mr Munroe, to date nearly 1,000 students and roughly 150 mentors are enrolled in YEP Bahamas.
YEP Bahamas is a non-profit organisation that is registered with the Ministry of Education and the Ministry of Youth.