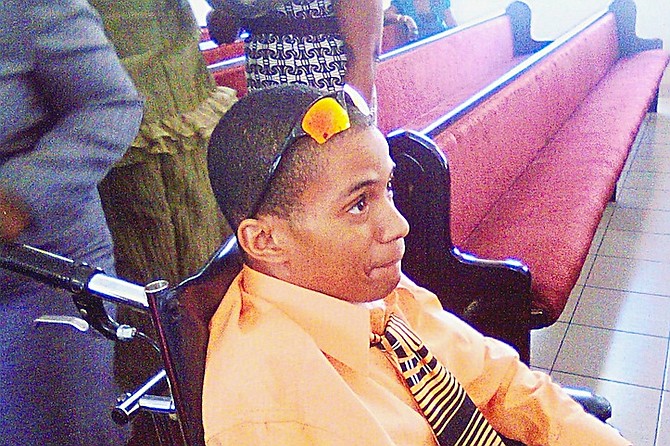 By RICARDO WELLS
Tribune Staff Reporter
rwells@tribunemedia.net
A MOTHER is "grateful and overjoyed for the public support" her family received after a car accident five years ago left her 22-year-old son paralysed from the waist down.
Jacqueline Ford said that she is "thankful" for the "genuine care" her son, Renaldo Gibson, has received over the years, in particular from the team at the Providence Rehabilitation Centre, who after reading of his plight in The Tribune offered him 20 free rehabilitative sessions at their facility.
Through the therapy, Renaldo was able to stand, despite the initial dire predictions from his doctors.
She added that in addition to Providence Rehabilitation Centre, the doctors at Princess Margaret Hospital, especially those on the Male Surgical Ward 2, and the entire congregation at the family's church, Rhodes Memorial Methodist, played a key role in her son's recovery.
Mrs Ford said: "This was a very difficult process for us because I was out of a job and the medical expenses were huge."
In an October article in The Tribune, Mrs Ford revealed that her son's medical bills were more than $100,000, leaving her with no choice but to plead for help.
"Right now money is due to go over, and I don't have the first dollar," Mrs Ford said at the time, in tears. "I'm on leave from work, and it's only my husband, and everything seems to be piling up."
According to Mrs Ford, in 2009, while taking a then 16-year-old Renaldo to school, they were involved in a horrific car crash on Prince Charles Drive. The force of the collision propelled Renaldo out of his mother's vehicle and onto the pavement, paralysing him from the waist down.
Mrs Ford said upon impact, her head struck the steering wheel of the car, causing her to black out. She said when she regained consciousness and didn't see her son in the car, she managed to crawl to the passenger side of the vehicle to look outside. She said she noticed her son lying on the ground not too far from the crash.
She indicated that local doctors initially informed her that her son would require the assistance of a ventilator for the rest of his life. She said that revelation prompted her to fly him to the Orlando Regional Medical Centre in 2012.
Shortly after his 20th birthday, Mr Gibson breathed without the help of a ventilator for the first time.
Mrs Ford said: "When it comes to Renaldo, his spirit is something that is truly amazing. At times I wanted to break down and cry and he encouraged me to stay strong."
She said that in recent weeks, with the assistance of a therapist at Providence Rehabilitation Centre, her son began to stand.

Mrs Ford added: "Now we our trying to see what else is possible. At one point I doubted that this was a possibility, but because of his faith and energy, I truly believed and now we are seeing the results."
Providence Rehabilitation Centre director Dr Christina G Messarra said of Renaldo's case: "We wanted to take what he had and make it the best it could be".
She added: "Most persons that have injuries because of a lack of knowledge don't really consider the possibilities they have to improve their lives.
"That is what physiotherapy is, helping persons to find ways to function within their environment. That is what we did for Renaldo, when I first heard of his situation I knew immediately that I had to help because I didn't feel that it was right for him to suffer because of a lack of education or money.
"Now he is standing with assistance. He was bedridden for almost three years and now he can stand," Dr Messarra said.
Yesterday marked Renaldo's last free-treatment session at the rehab centre. At the price of $1,400 plus value added tax for the 20 sessions, Mrs Ford said it will be "extremely tough financially" to continue the treatment.
Mrs Ford added that she is once again in need of public assistance.
"The treatment has done wonders to this point and I believe if we can continue with the treatments Renaldo will continue to improve."
Anyone who wants to lend support or offer donations can contact Mrs Ford at 468-2195. Additionally, they can make donations to her son's medical fund account at the Bank of the Bahamas or contact Dr Messarra at the Providence Rehabilitation Centre at 323-0121.