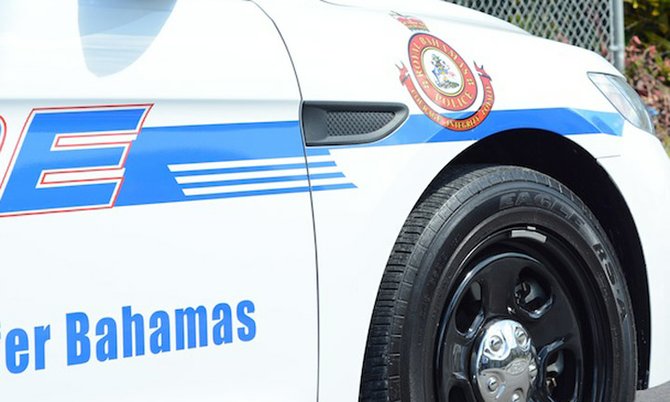 By DENISE MAYCOCK
Tribune Freeport Reporter
dmaycock@tribunemedia.net
ASSISTANT Police Commissioner Emrick Seymour has reported that crime went down by 24 per cent overall in Grand Bahama in 2014.
According to information released at Police Headquarters on Friday, some 955 incidents were reported in 2014, compared to the 1,257 in 2013.
Mr Seymour reported decreases in all categories of crime, with the exception of murder. He noted that 10 murders were recorded in 2014, compared to five in 2013.
Police solved five of the murders last year, and ACP Seymour reported that they now have three named suspects in three other murders, leaving two matters still pending.
ACP Seymour indicated that police are having challenges with their investigations into solving the murders of British national Edgar George Dart, 52, and American investor Anthony Welch, 47.
Dart and his family were victims of a home invasion on April 8. Three intruders held the family of seven hostage at their Emerald Bay home, robbing them of cash, jewellery, and other personal items. The suspects tied the victims with duct tape and shot Mr Dart before fleeing the residence.
Mr Welch was discovered dead at his Albacore Drive residence on January 24. He was discovered bound with duct tape, and had been stabbed multiple times in the body. 
Another area of concern Mr Seymour talked about was drug seizures in Grand Bahama. 
"We have seen significant drug seizures in GB , and last year has been a recording breaking year for us," he said.
According to statistics, the largest quantity of drug seizures were in Grand Bahama, where some 910 pounds of cocaine; 287,812 marijuana plants; 67.50lbs of hashish; 3.40lbs of heroin; and 8,236.26lbs of marijuana, and .88lbs of marijuana brownies were discovered.
Mr Seymour said Grand Bahama is a major transshipment point for illegal drugs. According to drug statistics at ports of entry, the largest cocaine seizure(452lbs) occurred at the Grand Bahama Container Port in 2014. 
"Grand Bahama can be considered a transshipment point. We are extremely on the alert… and we continue to have our law enforcement resources out to curtail these acts as they happen," Mr Seymour said.